Meet our Experiment 26.2 Ambassadors for 2020!
The organisers at the Deep RiverRock Belfast City Marathon have recruited a new "Experiment 26.2" Group to help, support and watch 15 people cross the finish line on Sunday 20th September 2020 for their first marathon.
In 2020 the group will enjoy the following fantastic package from our Official Sponsors and Partners:
Free entry for the Deep RiverRock Belfast City Marathon on Sunday 20th September 2020
Free Training Plan from our Official Marathon Coach Stuart Kennedy
Complimentary from our Official Nutrition Sponsor Framar Health: Nutrition Consultation, reflexology treatment, sports massage session, goodie bag and 10% off products
Full schedule of training activities inclusive of Better classes and complimentary races – SPAR Omagh Half Marathon, SPAR Craic 10K, Titanic 10K, Craigavon Lakes 3/4 Marathon and more
Full training gear from Decathlon– shorts/t-shirts/jacket/trainers
3 month citywide Health and Fitness membership with Better* Ts and Cs apply
12 month membership with Athletics Northern Ireland* Ts and Cs apply
Free Q&A and training sessions with Official Marathon Coach Stuart Kennedy, Framar Health, Better, Dr Gavin Breslin (Sport and Exercise Psychologist), experienced event Pacers and more
Complimentary training goodies from Deep RiverRock, Cancer Focus NI, Framar Health, Tayto, SPAR, Belfast Live, Four Star Pizza, Cool FM and more
And so much more!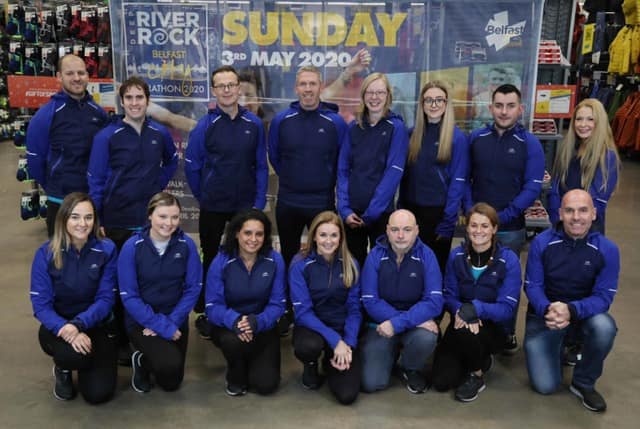 Who are the lucky 15 embarking on this marathon journey?
Cathy Hutton, Belfast
France Murray, Glengormley (Brown Shoes T21/Mallusk Harriers)
Robert Horvath, Belfast
Donal Smith, Downpatrick (East Down AC)
John Mulholland, Belfast
Jayne Hunter, Ballyrobert
Sinead Oakes, Belfast
Fergus Jamison, Belfast (North Belfast Harriers)
Paul Murphy, Ballymena
Martin Brownlee, Belfast
Danielle Gamble, Belfast
Laura Kerr, Warrenpoint
Zarah Thompson, Ballymena
Christopher McBride, Belfast
Morgan Owens, Fintona
Our ambassadors will all be fundraising for our Official Charity Partner Cancer Focus Northern Ireland.
Follow the Experiment 26.2 Group's progress over the coming months on Facebook, Twitter and Instagram and on our website news section.
Very best of luck to everyone!
Pictured:
L-R (back row) Robert Horvath, Christopher McBride, Fergus Jamison, Donal Smith, Frances Murray, Morgan Owens, Martin Brownlee and Cathy Hutton
L-R (front row) Laura Kerr, Sinead Oakes, Zarah Thompson, Jayne Hunter, Paul Murphy, Danielle Gamble and John Mulholland