2020 Deep RiverRock Belfast City Marathon - 8 Mile Walk

Date: Sunday 3rd May 2020
Time: 9am
Start: Stormont Estate (Prince of Wales Avenue)
Finish: Ormeau Park
Entry Requirements: Participants must be over 16 years old to enter. Due to the road legislation you may be required to walk on the footpath after a certain time. All participants must complete the 8 Mile Walk in less than 3 hours. Final entry deadline: Midnight on Friday 10th April 2020.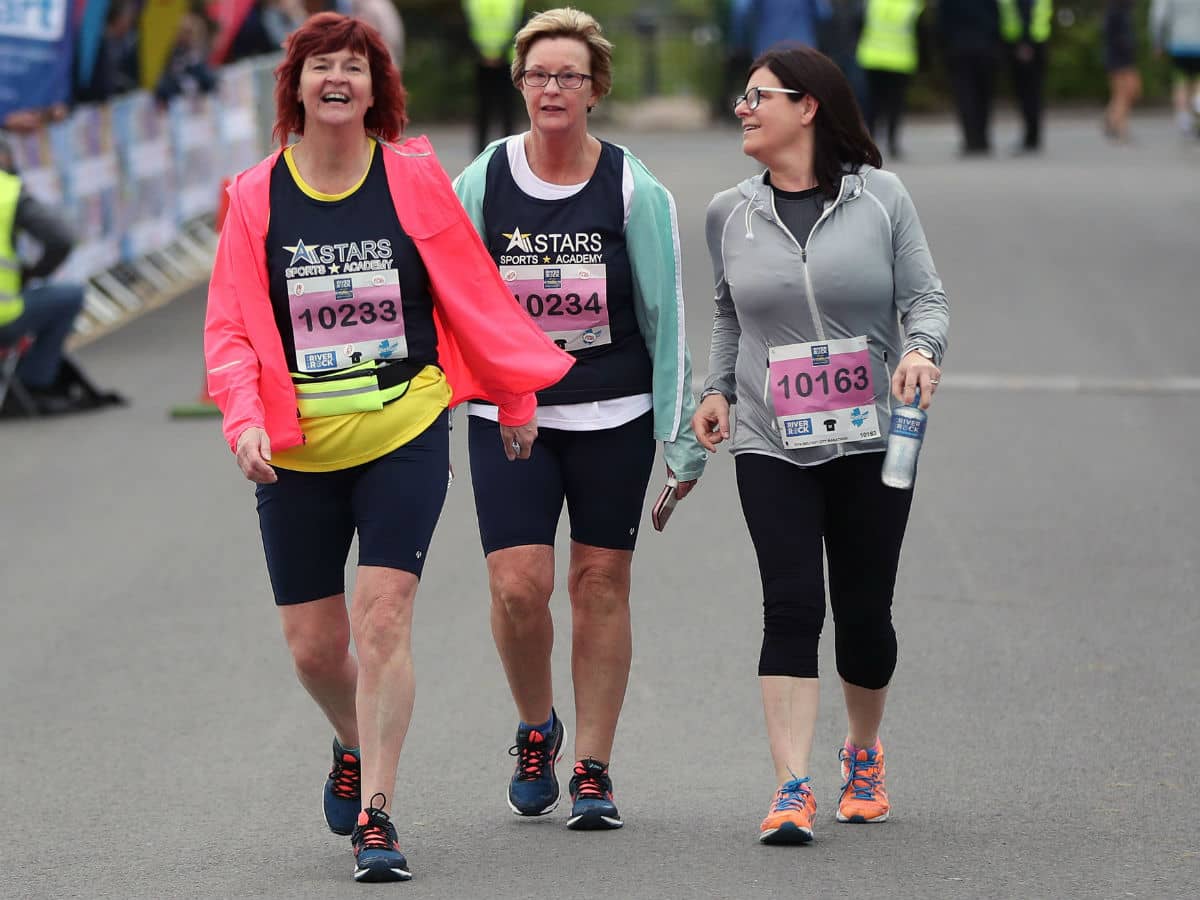 8 Mile Walk
The Walk Event was introduced in 1997 following public demand and is non-competitive, designed for ramblers and hikers. It follows a similar route as the main Marathon Run and Wheelchair Race and the Team Relay Event. Whether you are part of a walking club or want to set a realistic health and fitness goal for 2020, the buzz of race day and being part of the biggest mass sport participatory event in Northern Ireland is an opportunity you don't want to miss!
---
Entry Rates
| RATE | REGISTRATION | DATES AVAILABLE |
| --- | --- | --- |
| EARLY RATE | £20 | Until midnight 29th November 2019 |
| MIDDLE RATE | £30 | 30th Nov 2019 – midnight 28th Feb 2020 |
| FINAL RATE | £40 | 29th Feb – midnight 10th Apr 2020 |
---
Pack Collection and Expo for 2020
As stated in confirmation emails since the event launched in October 2019, participants will collect their race pack at the Pack Collection / Expo on Friday 1st and Saturday 2nd May 2020. There will be no race packs posted in 2020. Full details HERE.
The 2020 8 Mile Walk route starts at Stormont Estate and finishes in Ormeau Park.
Click HERE to view the 2020 8 Mile Walk Route Map image
Interactive Route Map (below)
**Please be advised that this is an interactive map used to highlight street names, distances and amenities offered on the route. Certain areas are difficult to portray on this map which may affect the distance
MAP KEY
R – Relay Changeover Point
N – Nutrition Station
E – Energy Drinks Station
G – Energy Gel Station
ROUTE NARRATIVE
Click HERE to view the 8 Mile Walk route narrative (by street name)
CHECKPOINTS
There will be TWO walk checkpoints on the 8 Mile Walk route. All walk entrants must bring their walk checkpoint card* with them on the day as these will be stamped at the following checkpoint locations (approximate miles):
Entrance to Tesco on the Castlereagh Road (approx 3 miles)
Bottom of Ravenhill Road turn from Albertbridge Road (approx 6 miles)
*Walk Checkpoint Cards will be provided in the Race Bags at the Race Expo/Pack Collection - details of the Expo to be confirmed in due course