Lets make the 9th Mash Direct Belfast City Half Marathon 2022 the best yet!
Not running, but want to be a part of the buzz and excitement?
VOLUNTEER NOW
The 2022 Mash Direct Belfast City Half Marathon is hosting its Expo and Pack Collection at the Titanic Exhibition Centre (TEC) on Saturday 17th September.
Each volunteer will become a member of our invaluable Race & Expo Crew will receive a Volunteer Pack and training to help guide participants safely.
We're also really keen to hear from community groups, clubs, people who live on the race route or if you can organise a team of volunteers! Drop us a message on info@belfastcitymarathon.org
There are a variety of EXCITING and REWARDING roles available - simply select your preferred option when registering:
EXPO & PACK COLLECTION
There will be a number of roles available at the new Mash Direct Belfast City Half Marathon Expo and Pack Collection taking place at the TEC, Belfast over Race Weekend.
Saturday 17th September - Expo and Pack Collection
Shift Times:
9.30am - 2.30pm
1.30pm - 6.30pm
Roles:
Dynamic Scanning - To assign runner their race numbers
Race Day packs - To replenishing stock and make sure every participant receives one
Helpdesk - To help runners with race day information
Sunday 18th September - Race Day
Roles:
Route Marshal – help direct all participants around the route giving plenty of support and encouragement along the way
Water & Nutrition Station Team – boost participants with much needed fuel
Start Area Support Team – cheer the runners off the start line
Finish Area Support Team – welcome participants across the finish line and share in their elation
TRAINING
Each member of the Volunteer Race Crew will receive full training (compulsory) in advance of Race Weekend.
Training dates:
September 4th (Sunday)
- 12pm - 1pm
September 5th (Monday)
- 1pm - 2pm
- 6pm - 7pm
All training sessions will last no longer than one hour and volunteers are only expected to attend one session
WHAT CAN YOU GAIN FROM THIS OPPORTUNITY
Meet new people
Learn new skills
Gain experience and improve your CV
Give back to your community
Have fun!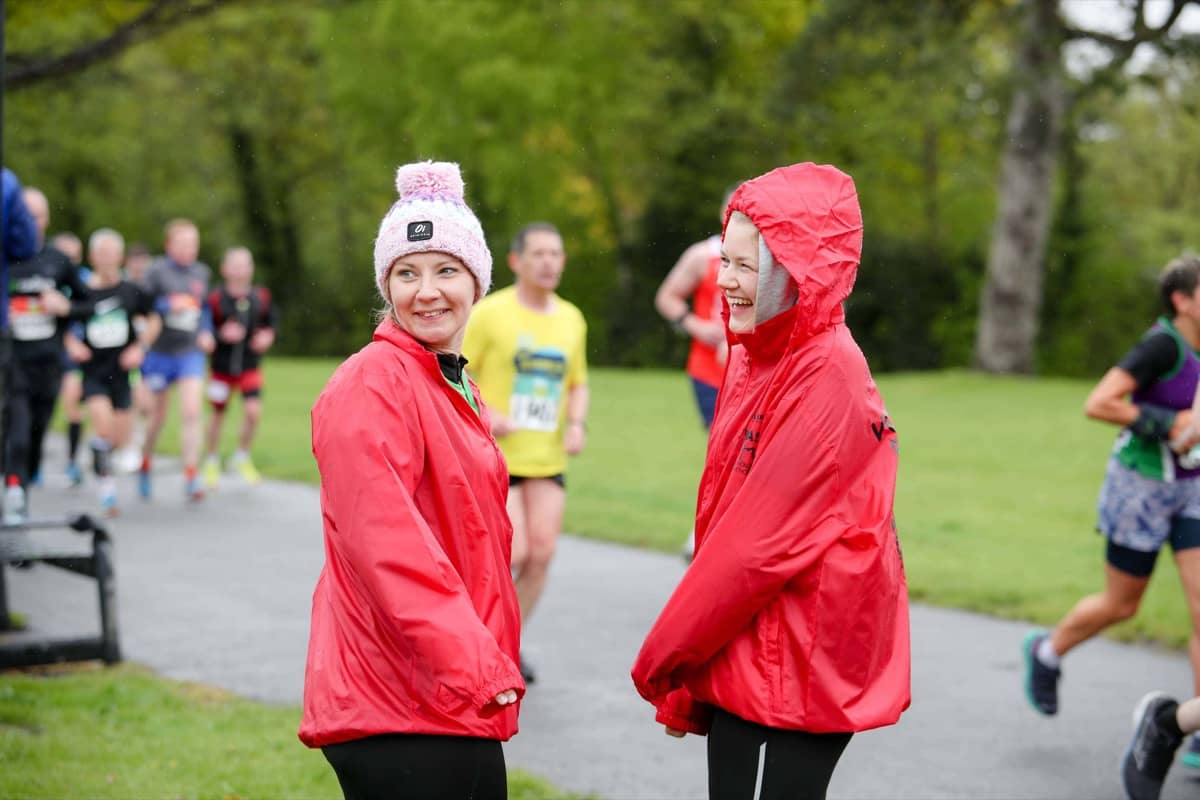 TESTIMONIALS
Name: Imelda McConnell Age: 66 From: Belfast
"I've volunteered at both the Marathon and Half Marathon. So many of my friends run the Marathon, so it's an ideal opportunity to support them and do something useful at the same time. There's always such a great atmosphere too."
Name: Lyn Cooke Age: 70 From: Belfast
"I have volunteered at many events since 2013 when I retired and enjoy meeting other volunteers from all walks of life. I'm looking forward to volunteering again soon!"
Name: Wayne Crowe Age: 46 From: Loughgall
"I would encourage people to join the team – it's a wonderful way to get to know people and give back to our community."
Name: Karolyn Gaston Age: 50 and her daughter Olivia Age: 13 From: Newtownabbey
"I have volunteered for the Marathon as a Team Leader at the Information Hub for approximately 10 years and similarly for the Half Marathon from when it started. Due to the pandemic, and after what felt like a lifetime under lockdown conditions, it was a fantastic feeling to get back out into the world of volunteering again! My 12 year old daughter has been volunteering with me since she was a baby where possible and from 9 years old has been volunteering at local parkrun with me. However, the closure of activities and volunteering opportunities under lockdown restrictions had a serious impact on her mental health. We were both thrilled when the Belfast City Marathon supported us volunteering together at the marathon for her first time. Much to my surprise, not even the 5am alarm call put her off the opportunity! The experience was a positive one for the mummy and daughter duo. I can't recommend volunteering enough, the joy of giving back and the benefits are far too long to list. Take my advice, sign up and just DO IT!
SO WHY NOT GET INVOLVED AND SIGN UP TODAY?