Put your best foot forward for a fit New Year with Cancer Focus NI
27 December 2019
With the New Year just around the corner, Cancer Focus Northern Ireland chief executive Roisin Foster is urging everyone to set a new health goal for 2020.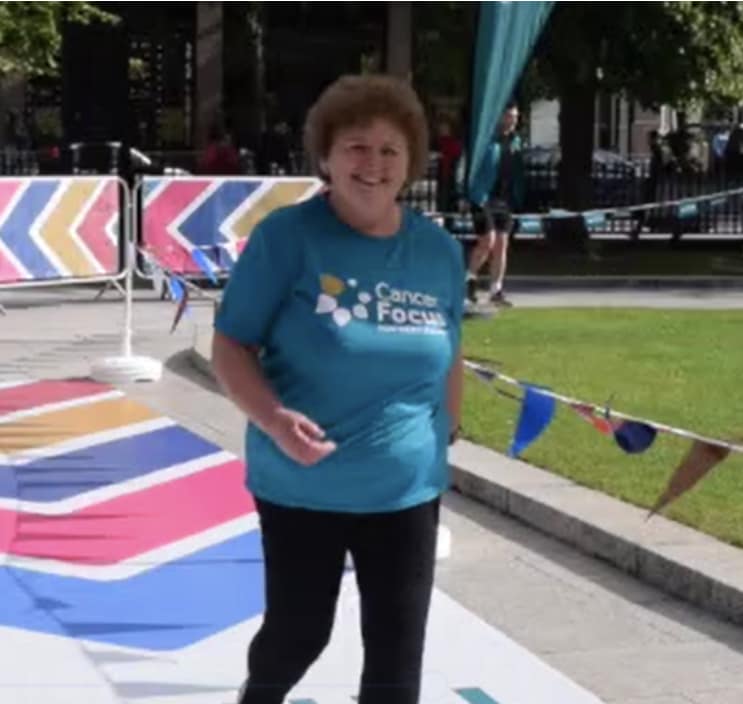 Roisin is encouraging walkers all over Northern Ireland to lace up their trainers and start preparing for the eight mile Deep RiverRock Belfast Marathon Walk next May.
The mum of four took up walking two years ago when her son bought her a Fitbit for Christmas - and she hasn't looked back since. "I feel so much better these days. I could definitely do the eight mile walk now but it would have been beyond me a few years ago," she admitted.
"It's a distance that most reasonably fit adults could achieve and you will feel a fantastic sense of satisfaction doing it for such a worthwhile cause," she said, urging as many people as possible to sign up for the event and help raise funds for the charity.
Roisin said she was delighted that Cancer Focus NI, which is celebrating its 50th year of supporting cancer patients and their families, is the sole charity partner for the Belfast marathon in 2020/21.
"The marathon is the biggest sports event in Northern Ireland that the public take part in and is an event you don't want to miss. And it's a brilliant target if you want to set yourself a new health goal for 2020. By taking part in the walk you can enjoy a decent stretch of the legs in good company and be part of the carnival buzz of race day," Roisin said.
Talking about her unexpected Christmas present, Roisin laughed: "I hadn't realised I wanted a Fitbit but actually it has turned out to be the perfect gift. I thoroughly enjoy it. It has made me much more aware of my physical activity and you can get hooked on checking your progress.
"I try to make sure I get my 10,000 steps every day, even by walking around the house or garden or walking to the bus and train station. If I have a meeting in Belfast, I walk rather than drive. I also usually manage to do 30 minutes brisk activity when my heart rate rises," she said.
As a result, Roisin is feeling a lot healthier and has a greater sense of well-being. "Walking gives you time to think, to have a chat with a companion, or to be quiet. It's a time to appreciate the nature around you or take in how beautiful Belfast is.
"I'm 63 and have no aches or pains or sore joints, which I put down to keeping active. I would definitely encourage everyone who can to try and build some extra physical activity into their general working day.
"Eight miles is very doable for so many of us, just take a few steps in the right direction and before you know it, you'll be ready to take part in that marathon walk. Get the New Year off to a fresh start and get trampling!"
The Marathon Walk was introduced to the marathon events in 1997 due to public demand. It starts at Stormont from 9am, finishing at Ormeau Park. It's non-competitive and designed for ramblers and hikers over 16 years of age. The final entry deadline is at midnight on Friday 10th April 2020.