Ganiel Aiming For second Consecutive Victory in Belfast Marathon
25 April 2023
Former NI Commonwealth Games athlete Gladys Ganiel will be attempting on Sunday to become the first ever local athlete to successfully defend her Mash Direct Belfast Marathon title.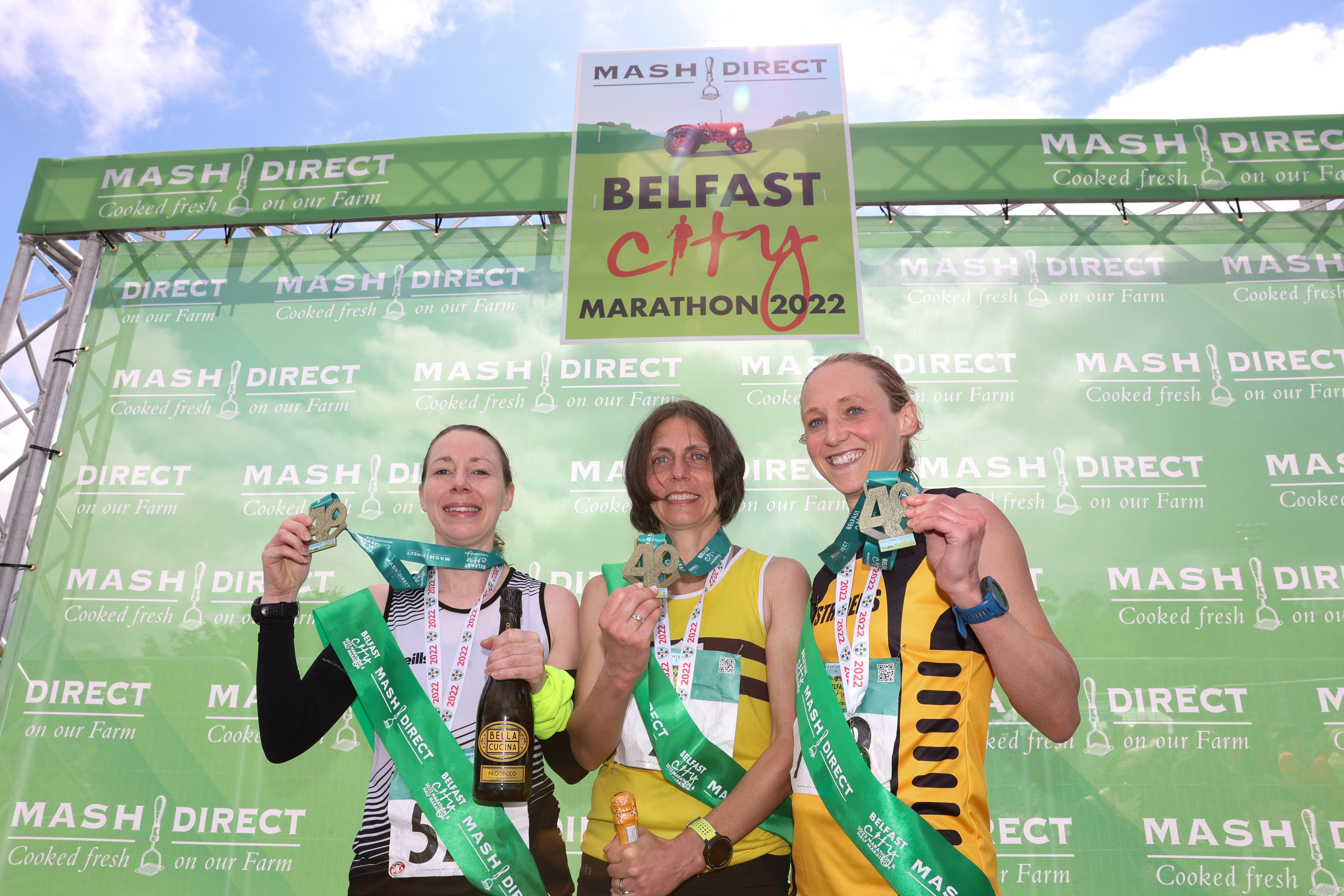 She will however have significant opposition this time from Ethiopia in this 41st running of the race .The event has again enjoyed huge support by way of some 4,500 entries in the marathon itself plus a record 1,800 five person relay teams most of whom are supporting various charities .
The inclusion of another record 1,000 in the walk event makes a grand total of some 14,500 participants meaning the event is easily the largest mass sports participation events in the Province .
Last year 46 year old North Belfast athlete Gladys enjoyed a comfortable 8 mins victory over Gillian McCrory of St Peter's Lurgan who will also be racing once again .
Ganiel seems to get better each time she races in Belfast .She collapsed after her 3rd place behind Fionnuala Ross in 2021 but dominated the race 12 months ago to take victory in 2 hrs 43 mins 49 secs . Back then Gladys had raised a few eyebrows as she had just run some 2 minutes faster a month earlier in the Manchester Marathon .The university lecturer then completed a remarkable treble in October by recording 2 hrs 42 mins in the Dublin Marathon.
Gladys will however have much keener competition this time round in the form of Shewaye Woldemeskel from Ethiopia who was 2nd in Belfast in 2019 in the 4th fastest time ever in Belfast of 2 hrs 37 mins 35 secs .Her recent form however is unknown with her last recorded time being 2 hrs 30 mins in Seville back in 2020 which followed a 4th place in Dublin the previous year .
Also racing is Ethiopia's 25 year old Gadise Negasa who has a PB of 2hrs 30 mins but was recently timed at 2 hrs 48 mins in Hong Kong .
An Irish name of note is Dublin's Ciara Hickey who was runner up in Belfast in 2021 in 2 hrs 44 mins 42 secs behind winner Ross .Others include 3rd place finisher last year Natalie Hall of Victoria and Connswater , Beechmount's Sarah Lavery who has a PB of 2hrs 55 mins ,North Belfast's Louise Smith plus Sarah Jane Cooke of Annadale who is a former winner of the Lisburn Half Marathon .
Commonwealth Games athlete Natasha Cockram of Wales has been asked to act as pacemaker for the Ladies event . The classy Welsh athlete has a PB of 2 hrs 26 mins and to date is the only GB female selected for this year's World Championships in Budapest .
Other names for Sunday's event will be announced shortly .