2020 Deep RiverRock Belfast City Marathon CANCELLED
03 June 2020
Official Statement by Belfast City Marathon Ltd
Wednesday 3rd June 2020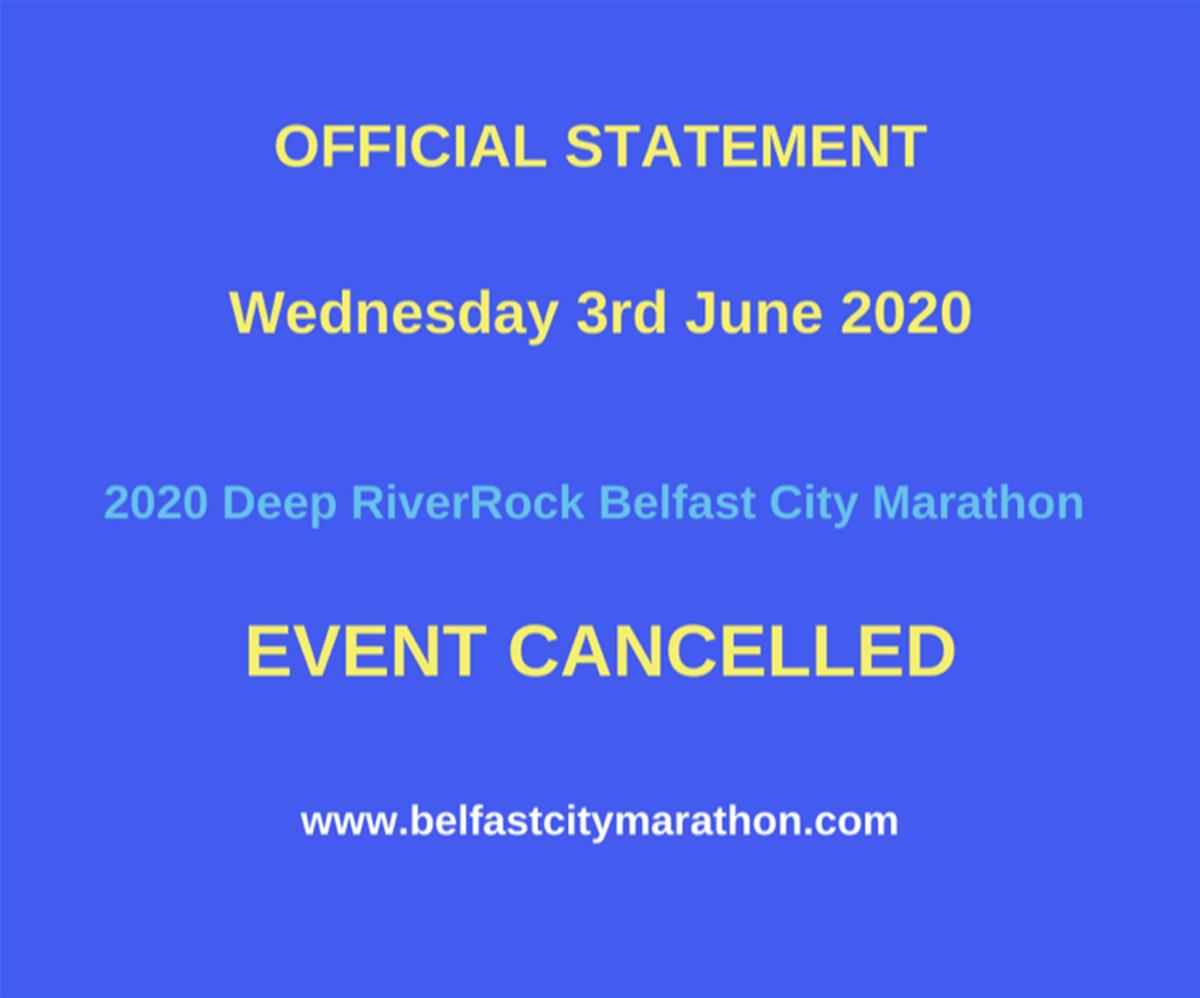 Runners, joggers, walkers, volunteers and supporters. Today we bring you the sad news that the 2020 Deep RiverRock Belfast City Marathon, which was expected to take place on Sunday 20th September has been cancelled.
As organisers, we understand that this news will come as a disappointment for many, even though some of you may have been expecting it. However we too share your disappointment as it marks a sad time in our 38th year history, as this is the first time our event has ever been cancelled. Consequently, this has been a very difficult decision to make.
Due to the unprecedented situation with the global pandemic of COVID -19, our fundamental priority must be your health and that of others; therefore at this time we do not believe we can stage our event safely or to the standard which you frequently rely on.
In a bid to sustain our cherished Belfast City Marathon we would like to defer all entries to the 2021 event (scheduled to take place on Sunday 2nd May). As a token of appreciation for your continued support, understanding and loyalty you will receive a £5 Decathlon Belfast voucher and 10% off your entry to the 2020 Deep RiverRock Belfast City Half Marathon (due to take place Sunday 28th February 2021).
There will also be the option for entrants to donate the value of their £5 voucher to our Official Charity Partner, Cancer Focus Northern Ireland, or to St John Ambulance (NI), who will both be very appreciative of your support at this difficult time.
However, if you do not wish to wait until May 2021, you can choose to complete your Fun Run, 8 Mile Walk, Team Relay or Marathon Run virtually by Sunday 20th September, and if you do, you will receive your t-shirt and medal in the post. If you wish to avail of this option, please access this link - https://eventmaster.ie/event/Ql1InKSOy and fill in your details before MIDNIGHT 11th June 2020. Please note you will need your original Eventmaster Order ID to complete this form. It is available in your confirmation email.
**Belfast City Marathon Ltd are also happy to consider deferral of entries to the 2022 and 2023 marathons. Please contact the Event Manager directly about this.
If none of these options suit please contact the Marathon Office directly at info@belfastcitymarathon.org
Hilary Hughes (Marketing Manager, Deep RiverRock) said:
"Whilst we are saddened to have to cancel the marathon in 2020, it is absolutely for the right reasons.
As title sponsor of the marathon, this is a date in our diary's we look forward to every year and whilst 2020 will be a time to reminisce on fun moments from previous years events, we are already looking forward to hydrating you all along the route and cheering you over the finish line in May 2021."
We appreciate this is a very difficult time for everyone and our thoughts are with everyone impacted. We thank you for your patience and wish you and your families all the best during this time and look forward to seeing you in May 2021.
Thank you for your understanding.
Belfast City Marathon Ltd
The Deep RiverRock Belfast City Marathon is sponsored by Deep RiverRock, Athletics Northern Ireland, Daily Mirror, Belfast City Council, Decathlon, Better, Cool FM (Downtown Radio and Downtown Country), Translink, SPAR, Belfast Live, Framar Health, Tayto and Four Star Pizza. This year's official charity is Cancer Focus Northern Ireland.