2022 Mash Direct Belfast City Marathon - Team Relay

Date: Sunday 1st May 2022
Time: 9am
Start: Stormont Estate (Prince of Wales Avenue)
Finish: Ormeau Park
Entry Requirements: The event is open to teams of two to five people and teams can be all-male, all-female or mixed (combination of males and females). Participants must be over 16 years old to enter. All teams must complete the Team Relay in less than 6 hours. Final entry deadline: Midnight on Friday 8th April 2022. **Limited entries available.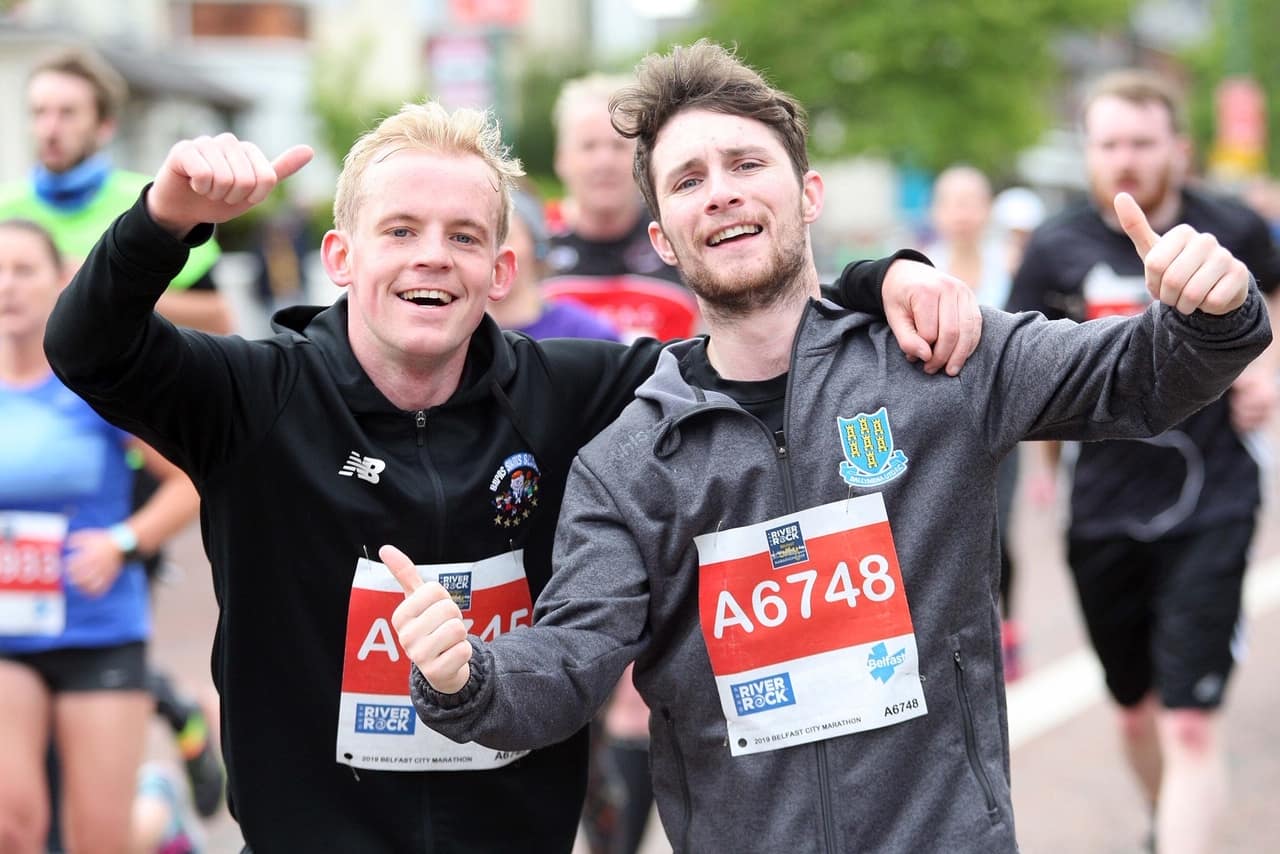 Team Relay
The Team Relay Event is very popular, with around 2,400 teams and 12,000 competitors taking part in 2019. The Team Relay follows the same route as the main Marathon Run and the Wheelchair Race. This event is perfect if you are exploring an interest in running as there are 'legs' of the marathon route ranging from 4 miles to 6.9 miles. As the name suggests, this is very much a "Team" based event rather than competitive. More often than not friends, work colleagues or schools will form a team and raise much needed funds for charity.
Entry Rates
| RATE | REGISTRATION | DATES AVAILABLE |
| --- | --- | --- |
| EARLY RATE | £100 | 19th October 2021 - 31st December 2021 (Midnight) |
| MIDDLE RATE | £120 | 1st January 2022 - 28th February 2022 (Midnight) |
| FINAL RATE | £140 | 1st March 2022 - 8th April 2022 (Midnight) |
Route
The 2022 Marathon route takes in the 4 areas of Belfast; North, South, East and West, starting at Stormont Estate and finishing in Ormeau Park.
Click HERE to view the 2022 Marathon Route Map image
ROUTE NARRATIVE
Click HERE to view the Marathon route narrative (by street name)
Changeover Points
The team relay is split into five parts with approximate distances ranging from 4 miles - 6.9 miles.
There are four team relay changeover points with the race (first relay leg) starting at Stormont:
Start

Stormont Estate -

4.4

miles

(Leg 1)

Changeover 1:

Montgomery Road

(near Lisnasharragh Leisure Centre)

-

6.9

miles

(Leg 2)

Changeover 2:

Boucher Road

(opposite the old B&Q)

- 4 miles

(Leg 3)

Changeover 3:

Falls Road

(close to St Kevin's Primary School)

-

5.6

miles

(Leg 4)

Changeover 4:

North Queen Street

(changeover point is on North Queen Street, close to Tesco car park)

-

5.3

miles

(Leg 5)

Finish:

Ormeau Park
---
TEAM RELAY TRANSPORT
To be confirmed at a later date.