2021 Deep RiverRock Virtual Belfast City Half Marathon & 5K

Date: Saturday 1st May - Monday 3rd May 2021
Time: n/a
Start: n/a
Finish: n/a
Entry Requirements: Participants must be over 17 years old to enter the Half Marathon. There is no minimum age for the 5K event, however all entrants under 16 years of age, must be accompanied by one adult for health and safety reasons. All participants must complete the Half Marathon/5K in the one session and upload their times before midnight on Monday 3rd May 2021 (not compulsory for 5K).
Final entry deadline: Midnight on Friday 23rd April 2021.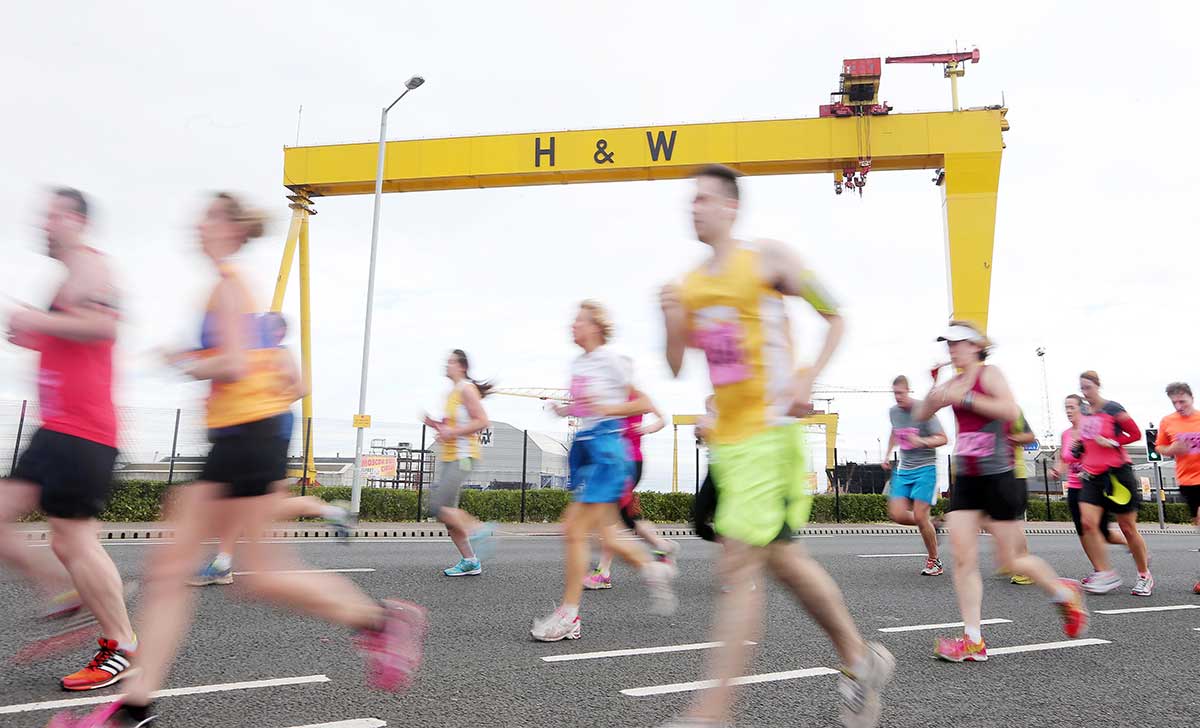 Virtual Half Marathon
The Deep RiverRock Belfast City Half Marathon will change to a Virtual Event in May due to COVID-19 and ongoing restrictions. All registrants will be able to complete their run (in the one session) from Saturday 1st May - Monday 3rd May 2021. In addition there will be a 5K event for any runners, joggers or walkers to complete.
---
Entry Rates
| RATE | REGISTRATION | DATES AVAILABLE |
| --- | --- | --- |
| Virtual Half Marathon Event | £20 | SOLD OUT |
| Virtual 5K Event | £10* (Additional option to purchase Event Tech T-shirt for £5) | SOLD OUT |
Click HERE to download the 2021 Deep RiverRock Belfast City Marathon Entry Form


What is a Virtual Run?
Participants are encouraged to jog or run the distance of 13.1 miles in one session (safely and always following Government Advice on Social Distancing) submitting results from Garmin or Strava.
If participants are completing the 5k distance, they can walk, jog or run this and the submission of results is optional.
Entry Rates
The entry fee for the event is £20.00 and £5 from each entry will be donated to our Official Charity, Cancer Focus NI. All participants will receive a medal and Decathlon Tech T-shirt mid May 2021.
The entry fee for the 5K event is £10 and £2.50 from each entry will be donated to our Official Charity, Cancer Focus NI. All participants will receive a medal. There is an option to purchase a Decathlon Tech T-shirt at £5 and this must be selected at time of registration. Participants will receive both medal and t-shirt mid May 2021.
Get Britain Running
The organisers are delighted to announce that they have joined the "Virtual Winter Running Festival." Get Britain Running brings you a choice of six officially licensed virtual events (including ourselves) from the organisers of the Great Welsh Half Marathon, Bath Half, ABP Southampton Half Marathon, rightmove MK Half Marathon, Richmond RUNFEST.
Run all six and you will receive an exclusive Get Britain Running Winter Challenger medal. By entering the Deep RiverRock Belfast City Virtual Half Marathon, you will receive a £20 discount code to enter the series in your email confirmation! You must then enter the series (cost at £105), entering your discount code at the end. Individual event entry will not permit any discount.
*The medal will be posted after completion of Belfast mid May.
If you enter into any of the other five virtual event gets on the Get Britain Running Site, you will get instant access to the online Winter Festival. Fun for all the family, giving you that winter market experience.
For more information please visit https://virtual.getbritainrunning.com/en/
Submission of Results
Full details of how to upload your results will be available from 1st April 2021.
ONCE YOU HAVE COMPLETED THE FULL 13.1 MILES DISTANCE, you will be required to submit your times for the official results before midnight on 3rd May 2021.
*Please note there are no competitive prizes for this virtual run.
5K participants can choose to submit their times for the official results (optional) but must do this before midnight on 3rd May 2021.
Final official results will be displayed on the website mid May 2021 and all medals and technical t-shirts will be posted to participants before 31st May 2021.
Terms and Conditions
Belfast City Marathon Ltd would like to stress the importance of adhering to local Government legislation on exercise during COVID-19 including social distancing. Please check out the Coronavirus Advice page https://athleticsni.org/Coronavirus-Advice for current guidelines on training.
Always plan your route in advance and be realistic with your goals. Ensure you are running or jogging on a suitable surface in a safe and familiar area. Be mindful of road traffic. If you are considering to do all of this challenge in a confined area, please do your laps in both clockwise and anti-clockwise directions to avoid injury such as pelvic tilt.
When carrying out this challenge participants are advised to carry an emergency contact name and number for personal safety and you tell a friend or family member where you intend to jog or run.
During the challenge please ensure you wear appropriate clothing, sunscreen (if applicable) and keep yourself hydrated - remember this is a virtual event and we do not wish to place any additional burden on the NHS.
Finally please be mindful of your health. Since COVID-19, your exercise patterns may have changed so start gradually to build yourself up and follow the Medical Advice on our site if needed. If you have been affected by COVID-19, wait at least one month before participating post infection. Like many infections this virus can affect multiply organs and the body needs time to recover.