Let's help each other and WIN £1000!!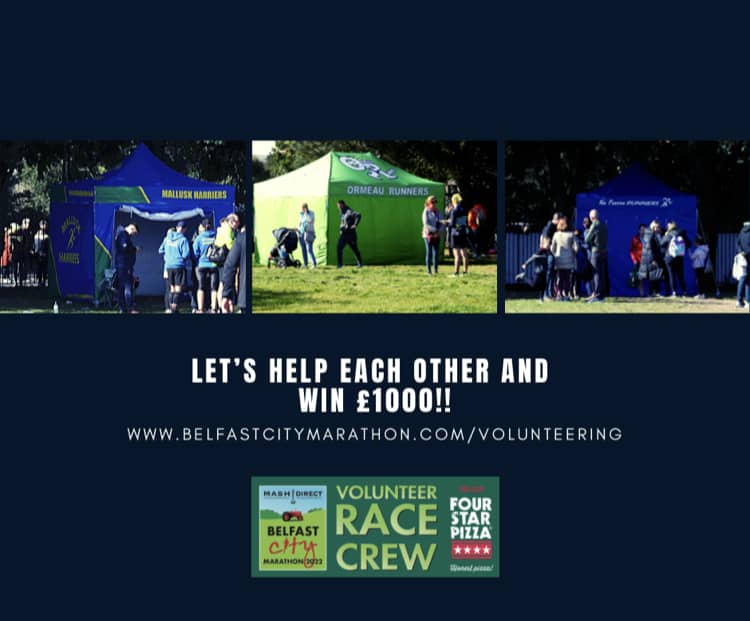 As we prepare to celebrate our 40th Belfast City Marathon in May we need your help.
Many of you will be running in the event on Sunday 1st May, and we want to ensure it is efficient, successful, and memorable as we return to our traditional date. However, to achieve this, we need over 500 volunteers, and we are asking for your help to support us.
In return one club will win £1000 with no conditions attached on how you spend it…Perhaps you need to update your facilities or assist members with their membership and entry fees after the pandemic – it is your bonus, your choice!
To qualify for the draw, all you need to do is provide 10 members/members' family/friends to volunteer on one of the following days;
Expo and Pack Collection at the TEC, Belfast;
Friday 29th April
Saturday 30th April
**Opening times for the expo are 11.30am – 5.30pm on Friday and Saturday. Shifts are a minimum of 4 hours and full hours are in the link.
Race Day

Start/finish marshals
Route marshals
Water stations
ALL volunteers will receive an event t-shirt, medal/certificate and a free Four Star pizza voucher
To register please click HERE.
If you have already registered or someone in your club has, please ask them to go back into their booking and add their club name.
For more information, please contact the Marathon Office at info@belfastcitymarathon.org