Exhibit at the Belfast City Marathon Expo in 2024
20 November 2023
The Moy Park Belfast City Marathon and Half Marathon Expo returns to the TEC Belfast in 2024, and it is the perfect platform to showcase your business to an audience of thousands.
Moy Park Belfast City Marathon Expo and Pack Collection – Friday 3rd and Saturday 4th May
Moy Park Belfast City Half Marathon Expo and Pack Collection – Saturday 21st September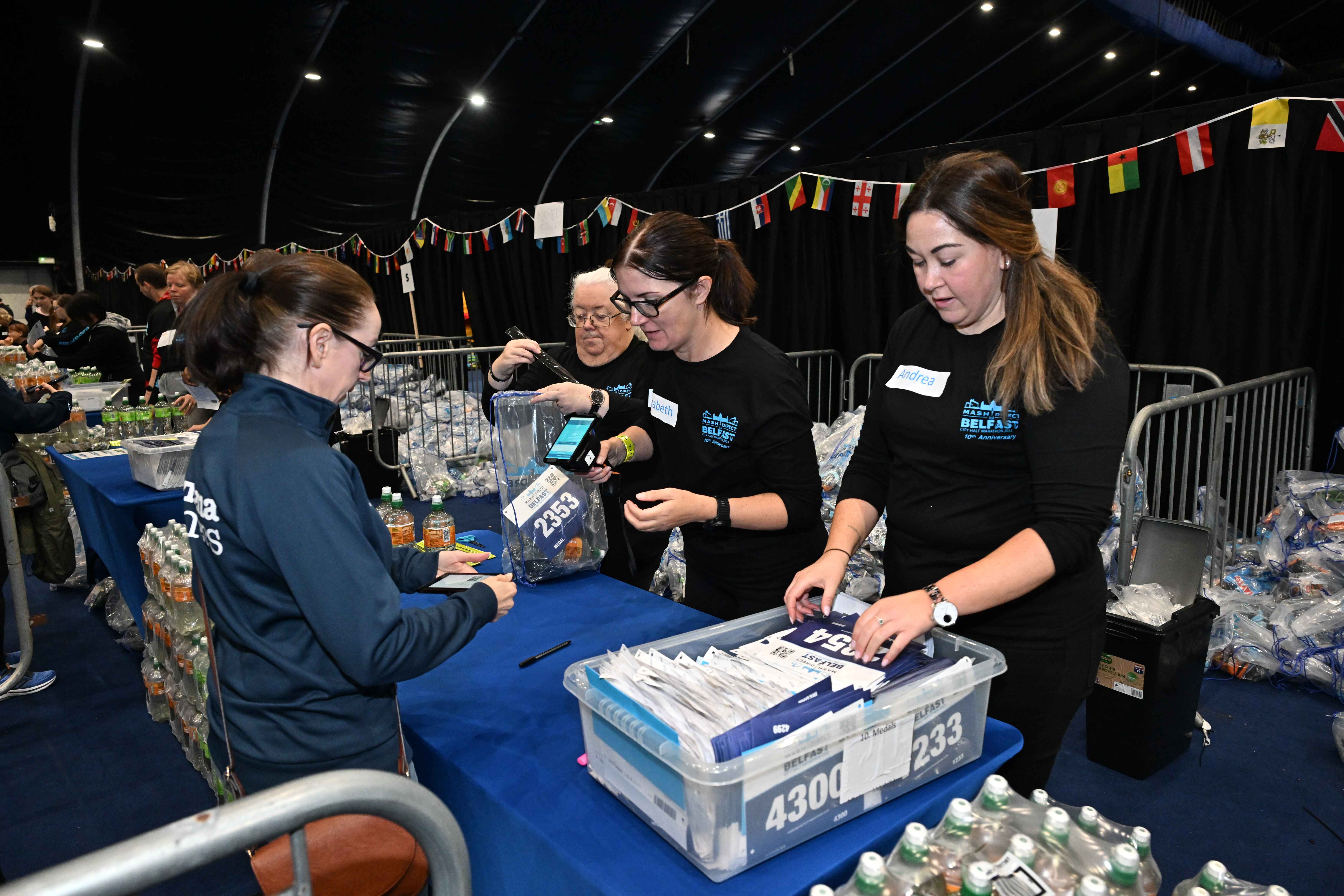 The Moy Park Belfast City Marathon is one of the leading marathons in the UK and Ireland and is an AIMS certified race. Not to mention, the first and only marathon in Northern Ireland to join the World Athletics Label Road Race Series. There is an event to suit all levels of fitness on including a Marathon Run, Wheelchair Race, Team Relay and 8 Mile Walk, attracting over 15,000 participants annually.
The Moy Park Belfast City Half Marathon is Northern Ireland's biggest half marathon event. The popular flat and fast race starts and finishes at Ormeau Park, running through the heart of Belfast and soaking up beautiful greenways and parks. The iconic race sells out year on year, now attracting 6,000 participants.
Participants across the events must visit the expo to collect their race number, t-shirt and bag, typically bringing friends and family in tow creating valuable footfall. The expo is free to attend and open to the public, runners, spectators and volunteers. With an expected attendance of over 20,000 for the marathon and 10,000 for the half marathon, the expo is a great place for any business ready to showcase to a large audience.
You'll join title sponsor, Moy Park, alongside Linwoods Health Foods, Belfast Live, Cool FM and many others. The event team have a jam packed stage timetable lined up to include a pacer Q&A, a warm up session, a route run through, not to mention plenty of giveaways.
Catherine McKeown, Organ Donation Promotion Manager, Public Health Agency says;
"Raising awareness of organ donation and the choices everyone has with the change in the law, is vital to our work. Partnering with the Belfast City Marathon and Belfast City Half Marathon has been an extremely helpful way to engage with participants and families, as well as wider audiences on race day. The team at Belfast City Marathon are extremely helpful and continue to deliver new initiatives which also help partners to increase their exposure. We are delighted with our continued involvement with the Marathon events."
Stands are available at just £80 per square meter including VAT for the marathon, and £55 per square meter including VAT for the half marathon. All bookings include complimentary advertising space in the digital privilege booklet which is distributed to all registrants and the opportunity to place an item in the race bag. The expo gives your organisation the opportunity to build brand awareness, generate leads, provide valuable information and sample products.
Participant Profile

Marathon

Half Marathon

61% male

58% male

39% female

42% female

83% between ages 25-55

87% between ages 25-55

87% from Northern Ireland

89% from Northern Ireland
To book a stand, contact the event team at info@belfastcitymarathon.org or call 02890605922
* Please note that exhibitors and stand activation must not conflict with Belfast City Marathon event sponsors listed on www.belfastcitymarathon.com
For more information visit belfastcitymarathon.com and stay in touch Facebook / @MarathonBelfast Twitter / @marathonbcm Instagram / @belfastcitymarathon
The Moy Park Belfast City Marathon and Half Marathon is sponsored by Moy Park, Northern Ireland Electricity Networks, Belfast Live, Daily Mirror, Cool FM, Downtown, Downtown Country, Translink, Better, Tayto, Belfast City Council, Deep RiverRock, Athletics NI, Charles Hurst, Mash Direct and Linwoods Health Foods. The official charity partner is Air Ambulance Northern Ireland.