Important Event Information regarding Coronavirus
04 March 2020
Important Announcement!
As you know all health organisations, businesses and events are currently dealing with the Coronavirus and it's potential spread in Northern Ireland. Although we do not plan on cancelling the event, the Board of Directors are working on measures to reduce any risk whilst ensuring a smooth and successful delivery of the event to our participants. As such some changes will occur to our standard plan;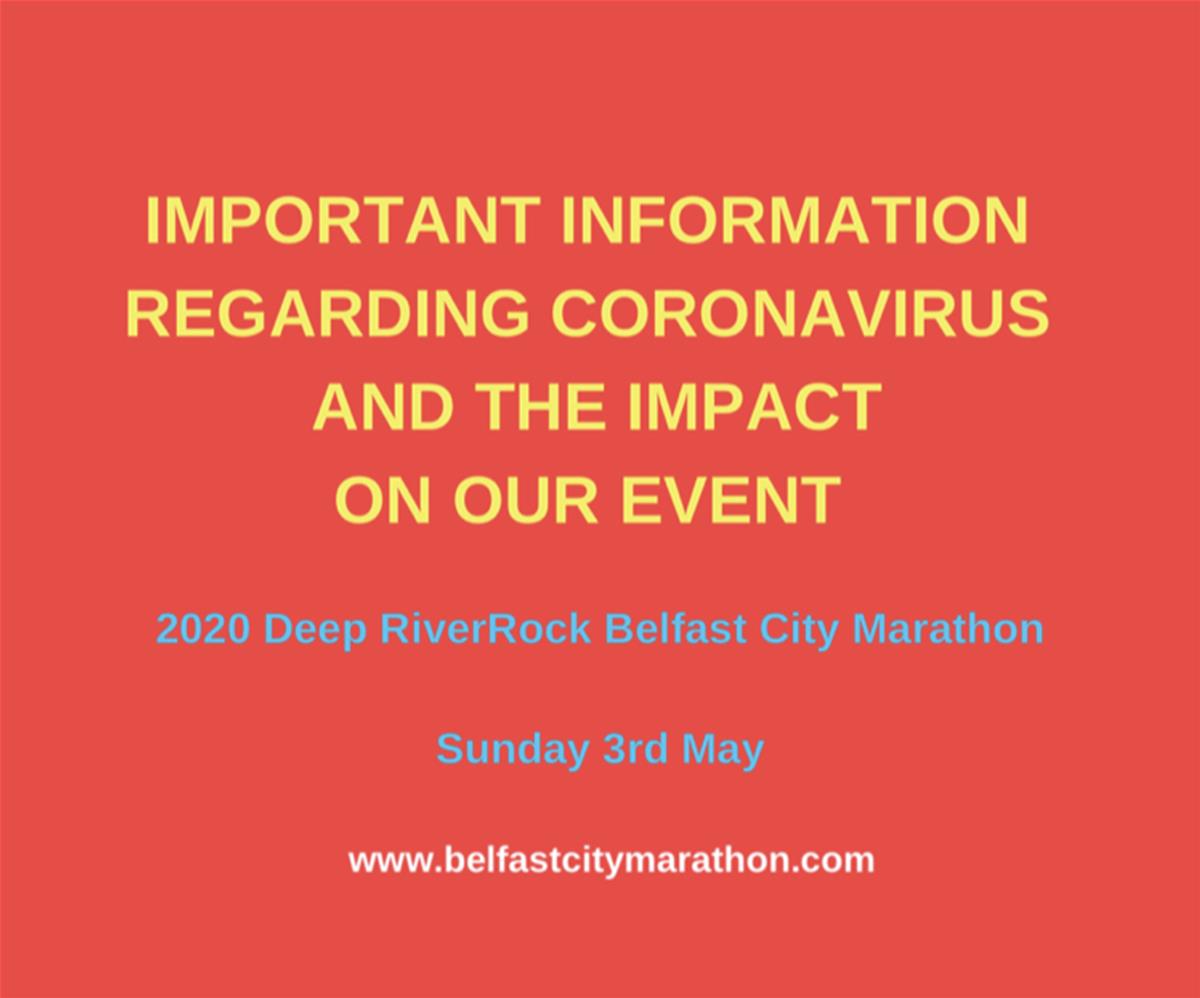 Participant T-shirts
The organisers will no longer be able to provide any t-shirts at the event.
We understand this is disappointing and appreciate this was part of your entry fee, so we have agreed to offer you with a £3 credit note towards the entry fee for the 2021 Deep RiverRock Belfast City Marathon once entries open (Summer 2020). If this code is not facilitated (by the expiry date on the credit), £3 will be donated to our Official Charity, Cancer Focus NI.
Pack Collection and Expo
The organisers have cancelled the Pack Collection and Expo at Belfast City Hall on Friday 1st May 2020 – Saturday 2nd May 2020. As such all race numbers and timing chips will be posted to your address (given at time of registration) in advance of Race Day on Sunday 3rd May 2020. Over Race Weekend any queries can be emailed to the Marathon Office directly at info@belfastcitymarathon.org
We appreciate your understanding and support on all of the matters discussed and will keep you informed if any other changes occur.
If you have any queries, please email info@belfastcitymarathon.org or contact the Marathon Office directly on 028 9060 5933.
We wish you all the best with your training and look forward to seeing you at the starting line at Stormont Estate in May.
Yours in Sport
Belfast City Marathon Ltd