10 Fantastic Marathon Stories
05 May 2022
Click below to hear 10 wonderful stories from our 40th Mash Direct Belfast City Marathon!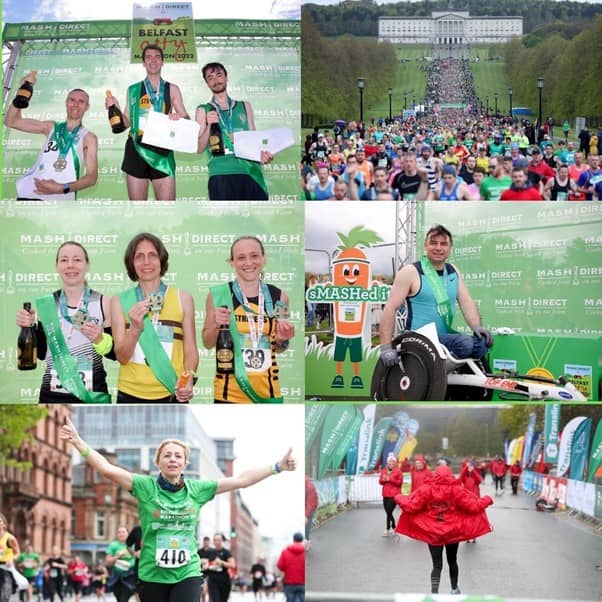 Team Kerr.
Team Kerr finished their 47th Marathon
This inspirational family are already planning for next year's marathon but smashed it this year as always. David, Sandra & Aaron are an absolute credit to themselves, and we loved having you guys run with us!!
Team Fiontann – FIFTY TEAM RELAY ENTRIES!
WOW! What can we say about Team Fiontann? Or should we say Squad Fiontann!
In memory of young Fiontann who sadly passed away earlier this year, 50 teams (yes 50 relay teams!) ran on Sunday, comprising of 250 runners.
Certainly, a memorable and special day for all involved.
David Keogh.
One of several hundred of our international runners who visited our wonderful city of Belfast. David took to twitter to express his kind thoughts of the marathon and the capital.
Lois Warke.
Lois was one of many superb, kind, and dedicated volunteers who willingly gave up their Sunday (or whole weekend for some) to ensure race day was a show to behold for participants and spectators alike.
We really could not do this without all our volunteers, you are much appreciated by all of us here at the Mash Direct Belfast City Marathon.
No job too big, no job too small for the volunteer team!
Expo & Pack Collection.
On Friday & Saturday we held our Expo and Pack Collection event at the Titanic Exhibition Centre, runners and families enjoyed an array of stands, grabbing vouchers, free samples, or the latest running attire.
Shout out to Frazer who won our Tayto Primary Schools Artwork Competition, who collected his prize at the Expo with Cool FM's Curtis McCosh. We hope you enjoyed race day and the crisps!
Cancer Focus NI.
Cancer Focus NI are a team of many talents!
We cannot express our gratitude enough to have these guys as our official charity partner. From cheer stations to give runners a boost, to massages post-race in the marquee, the CFNI team are simply wonderful people. Some even donned their fitness gear and ran the full 26.2miles!
Thank you to everyone who raised money for the many charities. There was multiple cheers stations provided by many different companies, churches, chapels and charities across the route, your support is vital on days like these
Maria's Story.
One of our runners named Maria, unfortunately tripped close to 24-mile mark at the tow path before Ormeau bridge. Maria was very kindly helped up and supported by 2 fellow runners, who offered to walk Maria to the finish line, not worrying about their own race or their own time.
Maria would like to get in touch with these runners, if it was you, please get in touch.
Medical Services.
Race sees us push ourselves to the limits. Our first aiders and emergency services are vital on race day and I'm sure everyone would extend thanks to these volunteers and professionals, particularly if they looked after you. THANK YOU.
Running Clubs
The NI running scene is buzzing at the minute. Clubs training hard no matter the weather. They are runners, spectators, supporters, bus drivers, bag collection and physios on the day. Pictured are Mallusk Harriers, a local running club who had volunteers at the expo and race day, plus brought long this crowd of runners on the day.
Congratulations to those who ran, and a big thank you to those who helped us volunteering, we hope to see you all again next year.
Winners.
The 40th Mash Direct Belfast City Marathon 2022 wouldn't be complete without its winners.
1st place male – Paul Pollock
1st place female – Gladys Ganiel.
1st place wheelchair – Karol Doherty.
Congratulations to every single person that crossed the finish line and who won their own battle.