Translink drivers supporting Cancer Focus NI in Team Relay
30 January 2020
Translink driving instructors are taking part in the Deep RiverRock Belfast City Marathon Team Relay in support of the official marathon charity, Cancer Focus Northern Ireland.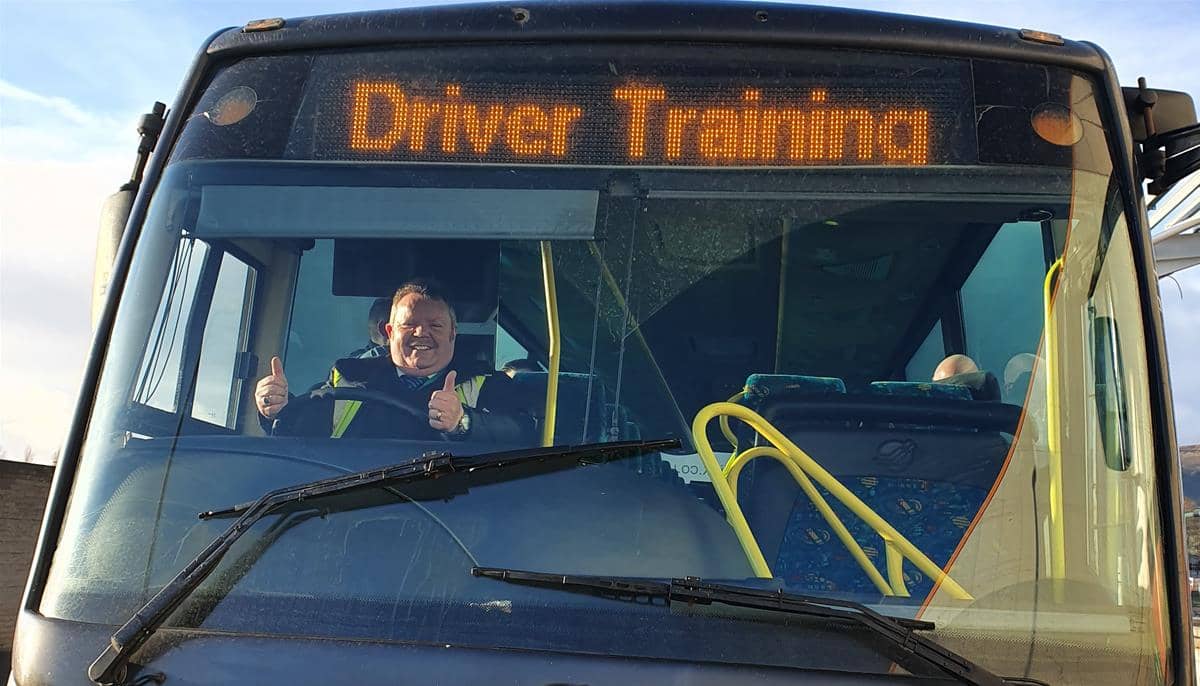 A colleague of the five-strong team was recently diagnosed with cancer for a second time which led the workmates to take up the baton for Cancer Focus NI, which is also Translink's official charity partner.
The relay runners, who train Ulsterbus drivers, are headed up by Kieran McCann, whose dad James lost his life to cancer 10 years ago. James's three brothers also died from the disease. The other runners are Patrick Headley, Gerry Bradley, Kieran McCann, Jason Burns and Stephen Leeman.
Kieran said: "Sitting behind the wheel of a bus all day, you do tend to put on a bit of weight. A few years ago I went up to 22 stone. I wanted to lose some weight, get fitter and healthier so I've been going to the gym and have done a couple of 5ks, so I've been building up my running distance. Taking part in the marathon relay gives me another target to work towards," he said.
"As well as raising money for such a worthwhile cause, training with the lads once a week is great for team building, camaraderie, fitness training and a bit of competition. We try to get out on a Friday afternoon for a run together around Ormeau Park or somewhere handy. It's been really good for bonding and is a bit of craic - we're all enjoying it."
The Randalstown man added: "Most of the team have been with the company for quite a while, so it was a blow when we heard that our colleague George Weir had been diagnosed with cancer for a second time. It was an easy decision to run for Cancer Focus NI.
"Many of the men have been touched by cancer among their family and friends too. My dad was only ill for three weeks after he was diagnosed. He had already lost his three brothers to cancer. My father-in-law also died last year from stomach cancer.
"It's a terrible, terrible disease and it's really scary to think that one in two of us will get a diagnosis. We are 100% behind Cancer Focus NI and I'm particularly interested in the research work that they fund at Queen's University Belfast. Anything to advance research and our knowledge of the disease is fantastic."
Kieran is also a member of the Translink choir and over the Christmas period they held performances at various stations to raise money for Cancer Focus NI.
All the money donated to Cancer Focus NI stays in Northern Ireland and is used to provide vital lifeline services for local people at one of the toughest times of their lives. The charity has family support, counselling, a specialist bra-fitting service for women who've had breast surgery, art therapy, driving service and the Sing for Life choir.
The charity visits schools and colleges all over Northern Ireland with their cancer prevention work, and they bring health information and stop smoking clinics to community venues and workplaces. The charity also funds pioneering new research at Queen's and advocates for better health policies for the future.
Where your money goes –
£15 will pay for someone affected by cancer to attend a creative therapy session
£25 will pay for a counselling session for a cancer patient
£100 will pay for six weeks support for a bereaved child
If you have any worries about cancer call the Cancer Focus NI free support and information Nurse Line on 0800 873 3339 and speak to a specialist cancer nurse.
#MakeItCount and support Cancer Focus NI by selecting them when signing up for the 39th Deep RiverRock Belfast City Marathon, Team Relay, 8 Mile Walk or Fun Run events. Register via desktop or mobile at www.belfastcitymarathon.com. A middle rate is available until Friday 28th February and the final entry deadline will be on 10th April 2020.