Day 12 Framar Health Training Tip Brussel Sprout Salad Recipe
24 December 2019
Brussel sprouts – like or dislike – this "Christmas Day leftovers" salad recipe from Sarah Trimble at Framar Health is perfect to support muscle function & hydration during your marathon training over the festive season! #12DaysofChristmas #12TrainingTips #Day12 #Nutrition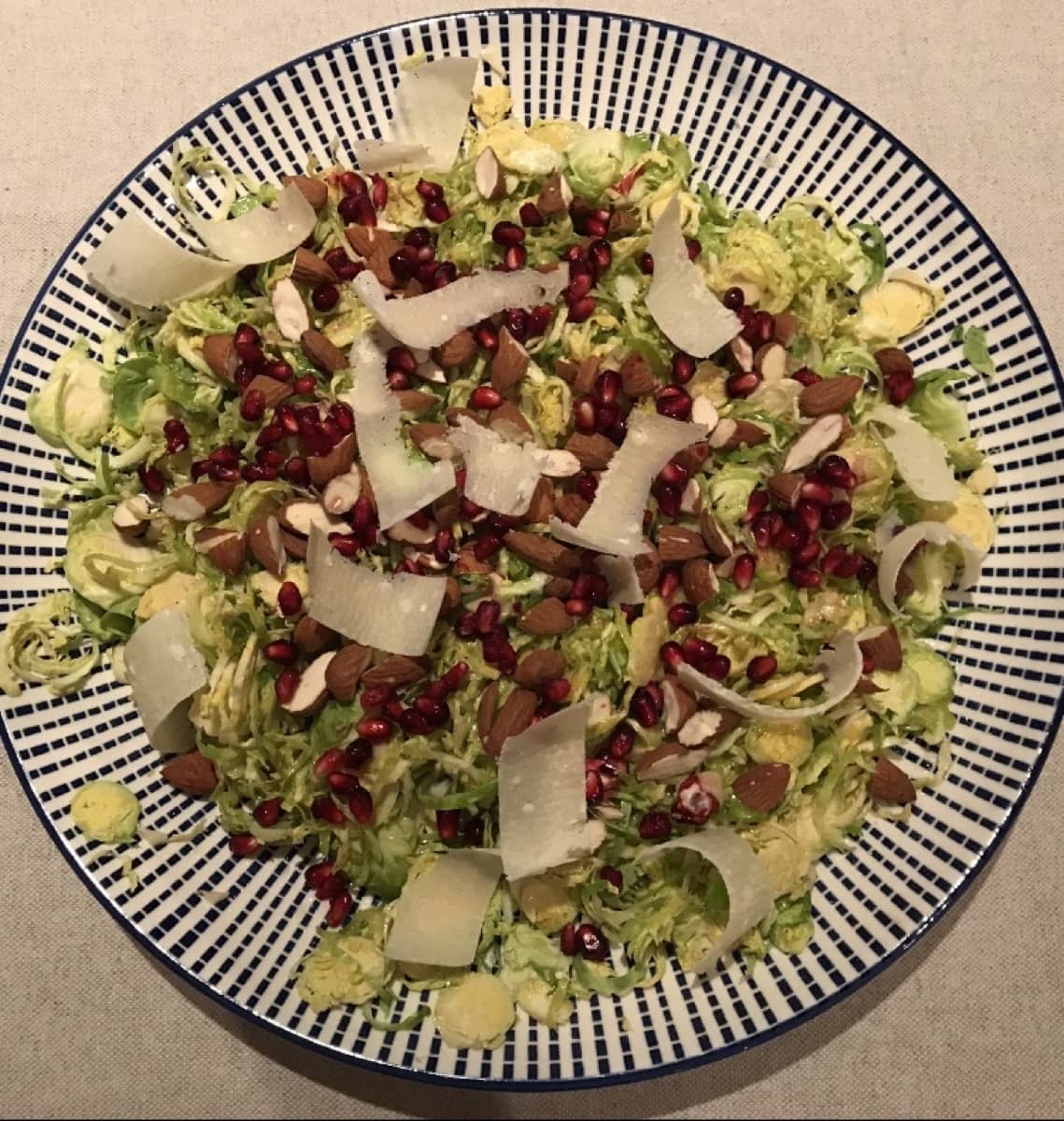 Brussel sprout, pomegranate and almond salad, courtesy of Sarah Trimble Nutrition from Framar Health - great way to use up those left over sprouts!
Serves 4
An alternative way to use up all those Brussel sprouts that everyone has in their house at this time of year, I'm confident that this salad will convert the most determined hater of Brussel Sprouts. Perfect alongside turkey leftovers on Boxing Day.
The Brussels contain calcium, magnesium and potassium, all essential electrolytes that we will need to consume regularly during training to support muscle function and hydration during exercise. Remember these nutrients all work together and green leafy veg such as Brussels are the perfect naturally occurring source of these minerals packaged together.
Move over oranges because Brussel sprouts are one of the richest dietary sources of vitamin C and therefore regular consumption can support immune function – especially important as marathon training can suppress immunity and we want to prevent colds and flus interfering with our training schedule.
Pomegranates contain compounds called proanthocyanidins that have been extensively researched in supporting exercise recovery – these compounds give pomegranates their deep purple red colour. So sprinkling pomegranate seeds over salads as well as yoghurts and breakfasts is a good habit to start.
Let's not overlook the importance of the olive oil dressing because extra virgin olive oil contains a pain-relieving compound called oleocanthol. It has a similar pain relieving action to ibuprofen and regular consumption results in reduced muscle pain and stiffness post-exercise.
Ingredients
1 large pomegranate
500g Brussel Sprouts, roots and outer leaves trimmed
75g almonds with skin, roasted in 150°C oven for 15 mins
50g parmesan cheese, shaved with potato peeler
Dressing
2 tbsp white wine vinegar
2 tsp Dijon mustard
6 tbsp extra virgin olive oil
2 garlic cloves crushed
2 tsp honey
Sea salt and black pepper
Method
Whisk together all the dressing ingredients
Cut the pomegranate in half and squeeze to release the seeds (this is a messy job so I do it outside in the garden).
Shred Brussel sprouts finely using either a mandolin or food processor. Add to a large mixing bowl with the pomegranate seeds, half the almonds and half the parmesan.
Add the dressing and toss to combine and then transfer to a serving platter – top with the remaining nuts and parmesan cheese.