Moy Park becomes new title sponsor as 2024 Belfast City Marathon AND Half Marathon launched
03 October 2023
The 2024 Moy Park Belfast City Marathon AND Half Marathon were officially launched at Better's newly restored Templemore Baths this morning (Tuesday 3rd October). The events are set to attract participation from across the globe to the streets of Belfast, with an electric atmosphere that will be unmissable.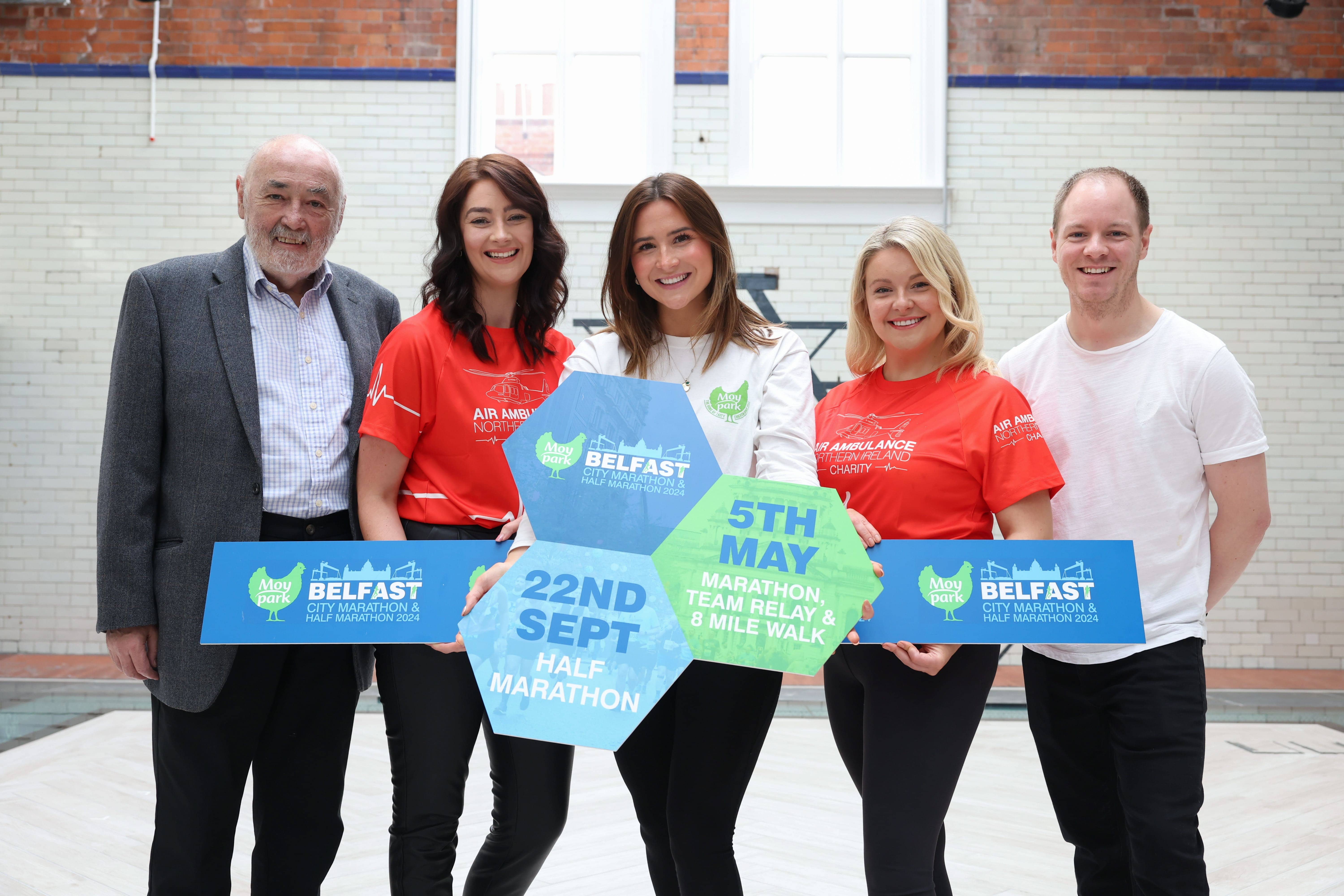 Moy Park has been announced as the headline sponsor for the prestigious annual events. Moy Park is Ireland's number one chicken brand, one of the UK's top food companies and continues to lead the market in Europe. The brand is proudly built on 80 years of local heritage, passion, and expertise, bringing the finest quality chicken and meal solutions to the table. Moy Park brand offer a range of healthy and convenient poultry products supplying leading retailers across the island of Ireland and Great Britain. Products are available in selected independents, convenience stores and multiples throughout Northern Ireland.
Ellen Wright, Senior Brand Manager, Moy Park commented;
''Moy Park is delighted to become the title sponsor of the Belfast City Marathon and Half Marathon. As the brand celebrates 80 years of feeding generations all over the island of Ireland, there proves to be a great synergy between Moy Park and Belfast City Marathon. Moy Park continues to fuel the nation, offering a range of high protein poultry products to be enjoyed as part of a well-balanced diet, bringing healthy and convenient meal solutions to the dinner table for everyone to enjoy.
As part of our 80th anniversary celebrations, Moy Park has launched its 'This is Home' campaign, to support local sporting events, charities, and our surrounding communities. What better way to celebrate this than to sponsor one of Ireland's biggest sporting events. It's all about encouraging communities to come together and get active while promoting a protein-rich and balanced diet with the help of Moy Park. It means a great deal to be able to support local events where we can make a difference and give something back. We are looking forward to joining everyone at the start line, while supporting the organisers, participants, volunteers, and charities. We would encourage more people to sign up to what promises to be a fantastic experience.''
The Belfast City Marathon is one of the leading marathons in the UK and Ireland and is an AIMS certified race. Not to mention, the first and only marathon in Ireland to join the World Athletics Label Road Race Series. The race returns on Sunday 5th May 2024, starting at Stormont Estate, a major tourist and visitor attraction on the outskirts of Belfast, and finishing in Ormeau Park, the oldest municipal park in the city.
There is an event to suit all levels of fitness including a Marathon Run, Wheelchair Race, Team Relay and 8 Mile Walk. Attracting over 15,000 participants annually, the Moy Park Belfast City Marathon proudly secures its place as the largest mass sport participatory event in Northern Ireland.
The Belfast City Half Marathon, Northern Ireland's biggest half marathon event, will return on Sunday 22nd September 2024. The route is an incredible tour of the capital city, soaking in cultural landmarks like the towering Harland and Wolff cranes, the vibrant Custom House Square, and the majestic City Hall. Whether you're a seasoned pro or a first-timer, the flat, fast and strikingly scenic route is perfect.
The Belfast events are renowned for the incredible support from enthusiastic volunteers and spectators as the courses wind their way through the North, South, East and West of the City. So runners can expect a boost from the quirky motivational signs, words of encouragement and on street entertainment.
Following it's popularity in 2023, the organisers are delighted to announce the return of the bundle package for those runners wishing to enter both the marathon and half marathon. This package will save runners £5 and is available until the 30th November. Organisers have also announced an increased prize fund for all categories across the marathon, team relay and half marathon events.
John Allen, Chairman of the Belfast City Marathon organising committee, commented:
"We were truly overwhelmed by the popularity of the 2023 events, so after a hugely successful year, we are thrilled to launch the 2024 Moy Park Belfast City Marathon and Half Marathon. It's a brilliant time to welcome new title sponsor, Moy Park, into our growing sponsor alliance.
The events have grown into popular, iconic and community-minded occasions attracting runners from across the country and across the world. We're very pleased to offer an increased prize fund across the categories in 2024. We hope you will be part of the experience in 2024, and so would encourage you to register as early as possible to secure your place following sell outs across most events last year.
Whatever event you chose, we would encourage you to join #TeamAirAmbulanceNI – by taking part in these events and raising funds, you will be playing your part in saving lives. Remember, every penny counts."
Air Ambulance NI is the dedicated charity partner for the 2024 Moy Park Belfast City Marathon and Half Marathon, a charity that works in partnership with the Northern Ireland Ambulance Service to provide the Helicopter Emergency Medical Service for the region. On average, the service is needed twice daily in Northern Ireland. Your fundraising could help the service reach the next patient in need.
Kerry Anderson, Air Ambulance Northern Ireland Head of Fundraising, commented:
"Air Ambulance NI needs to raise almost £7,000 per day to sustain and develop the air ambulance service. We hope that everyone signing up to take part in the Moy Park Belfast City Marathon and Half Marathon makes a donation or chooses to raise fundraising sponsorship. Every contribution will help to save a life, brain or limb. The aircraft can fly to any location in approximately 25 minutes. Once at scene, the medics can provide critical interventions that can be the difference between life and death. This is a service that is there for every one of us, 365 days of the year, with your continued support. #Others live when you give"
For more information and to register for the 2024 events, visit belfastcitymarathon.com and stay in touch Facebook / @MarathonBelfast Twitter / @marathonbcm Instagram / @belfastcitymarathon
The Moy Park Belfast City Marathon and Half Marathon is sponsored by Moy Park, Northern Ireland Electricity Networks, Belfast Live, Daily Mirror, Cool FM, Downtown, Downtown Country, Translink, Better, Tayto, Belfast City Council, Deep RiverRock, Athletics NI, Charles Hurst, Mash Direct and Linwoods Health Foods. The official charity partner is Air Ambulance Northern Ireland.