Previous Belfast Marathon Bernard Rotich of Kenya starts as firm favourite
28 April 2023
Previous Belfast Marathon Bernard Rotich of Kenya starts as firm favourite from 4,500 entries in Sunday's Mash Direct Belfast Marathon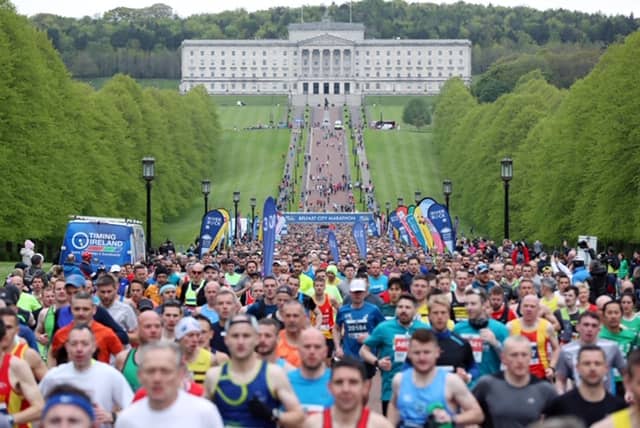 The African heads a field which has one of the strongest local marathon entries in the 41 years of the race. There are also 9,000 racing in the record 1,800 five-person relay teams.
36-year-old Rotich regards Belfast as his favourite marathon and would have raced here more often than his actual two previous appearances were it not for the major disruption caused by lockdown. He made a spectacular debut in Belfast back in 2017 when he destroyed the opposition to take the title by over a minute from Dan Tanui in an amazingly fast time of 2 hrs 16 mins 2 secs.
However Bernard met his match 2 years later when in a tightly fought battle he had to settle for third place in 2.18.55 some fourteen secs behind winner Joel Kositany.
Rotich, who is also a previous Dublin Marathon winner has a personal best time of 2 hrs 10 mins and continues to maintain top fitness as shown by his sub 2 hrs 13 mins time in the US last summer.
His main international opposition will come from Mohammed Oumaarir of Morocco who ran 2 hrs 18 mins in the Netherlands a year ago.
However there is an extraordinarily strong contingent of Irish and British runners some of whom will have serious aspirations of making rostrum positions. They include Bridgend's Adam Bowden who is a former GB steeplechaser with an 8 mins 28 secs PB. The 40-year-old remains a classy marathon runner with a 2 hrs 17 mins time to his credit from Manchester a year ago. He also ran 2 hrs 20 mins recently in Newport.
Also racing are Conor Gallagher from St Malachys and Clonliffe's Gary O'Hanlon who were the silver and bronze medallists from last year's race.
28-year-old Conor surprised everyone 12 months ago when he was runner up in his first ever marathon in a time of 2 hrs 25 mins. He took 2 minutes off this time in Dublin last October and will clearly be a serious contender again.
48-year-old O'Hanlon from Clonliffe is the proverbial running machine who defies his age. His third place in Belfast last year was followed by 2 hrs 25 mins in both the Cork and Dublin marathons. A PB time of 2 hrs 16 mins four years ago shows that his age is no barrier to success.
Another athlete of note is Carl Hegarty of Strive Racing. The recent Omagh half marathon winner ran a PB in Berlin last autumn of 2 27.41.
Others include former Irish Olympic walker Colin Griffin (PB of 2 hrs 23 mins), Willowfield's Aaron Woodman (2 hrs 26 mins), Martin Lynch who was sixth in Belfast last year in 2.31.28, Jonathan Horan of Ealing (2.32.30) and Niall O'Riordan (2 hrs 32 mins).
The Ladies event includes last year's local winner Gladys Ganiel and Ethiopia's Shewaye Woldemeskel who was second in Belfast in 2019.
The 14,500 participants taking part in this year's various events is quite different from the first Marathon event back in 1982 when Greg Hannon and Susan Boreham were the first winners from a mere 2,700 strong field.