Jayne Bleakley Becomes First Lady to Win Mash Direct Belfast City Half Marathon Wheelchair Race
25 September 2023
A huge congratulations to our wheelchair winner, Jayne Bleakley, who crossed the finish line on Sunday 17th September in a time of 01:41:39 to secure her spot on the podium 𝗔𝗡𝗗 become the first ever lady to win the Mash Direct Belfast City Half Marathon Wheelchair Race.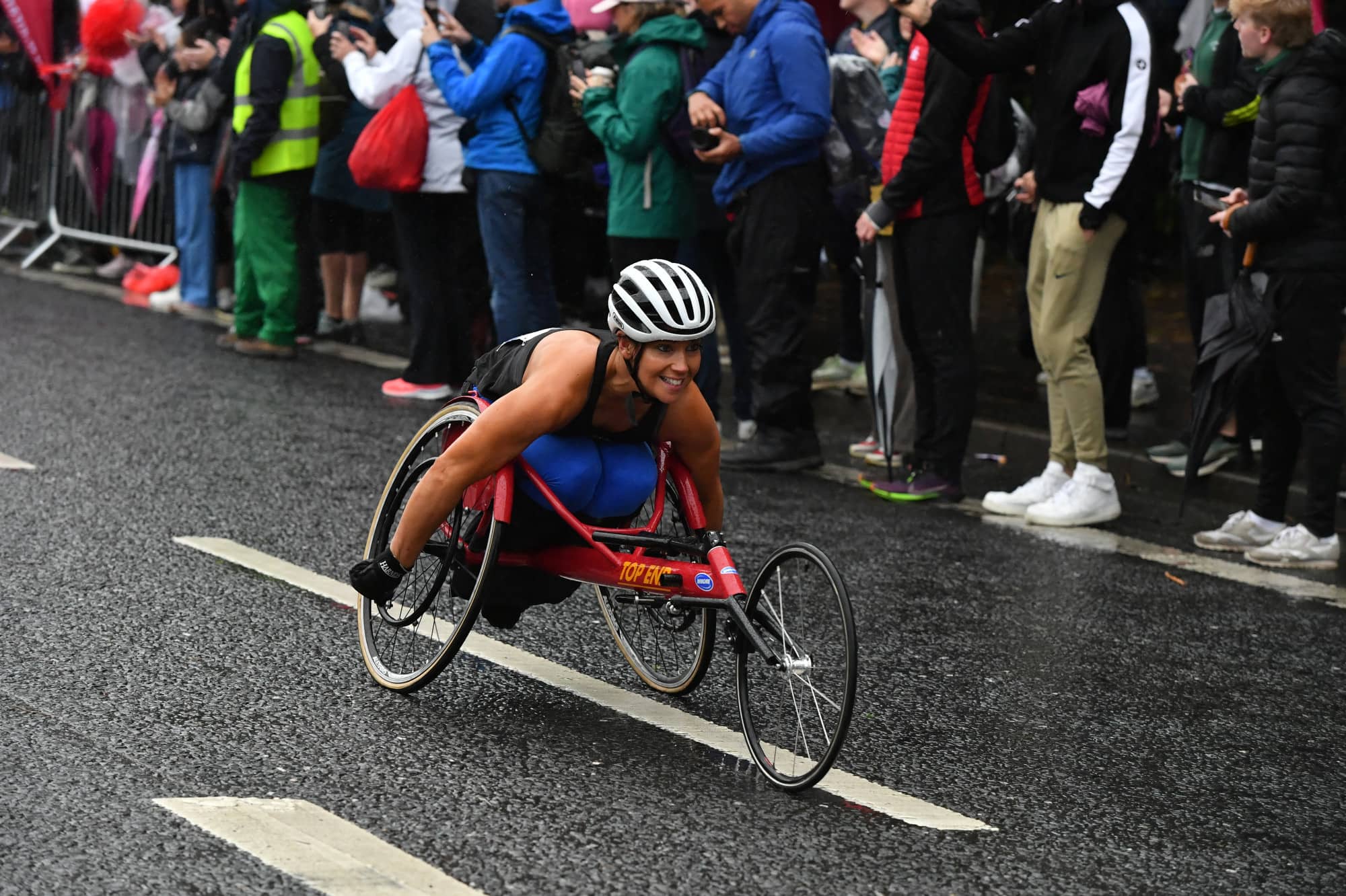 We caught up with Jayne after the event, and she commented;
"𝘐 𝘴𝘵𝘢𝘳𝘵𝘦𝘥 𝘱𝘢𝘳𝘢-𝘢𝘵𝘩𝘭𝘦𝘵𝘪𝘤𝘴 𝘭𝘢𝘴𝘵 𝘺𝘦𝘢𝘳 𝘢𝘵 𝘵𝘩𝘦 𝘔𝘢𝘳𝘺 𝘗𝘦𝘵𝘦𝘳𝘴 𝘵𝘳𝘢𝘤𝘬. 𝘐 𝘬𝘯𝘦𝘸 𝘐 𝘸𝘰𝘶𝘭𝘥 𝘳𝘦𝘢𝘭𝘭𝘺 𝘭𝘰𝘷𝘦 𝘪𝘵 - 𝘢𝘧𝘵𝘦𝘳 𝘮𝘺 𝘧𝘪𝘳𝘴𝘵 𝘵𝘳𝘢𝘪𝘯𝘪𝘯𝘨 𝘴𝘦𝘴𝘴𝘪𝘰𝘯 𝘐 𝘬𝘯𝘦𝘸 𝘐 𝘸𝘢𝘴 𝘩𝘰𝘰𝘬𝘦𝘥! 𝘈𝘵 𝘵𝘩𝘦 𝘴𝘵𝘢𝘳𝘵 𝘰𝘧 𝘵𝘩𝘪𝘴 𝘺𝘦𝘢𝘳 𝘐 𝘥𝘦𝘤𝘪𝘥𝘦𝘥 𝘐 𝘸𝘢𝘯𝘵𝘦𝘥 𝘵𝘰 𝘵𝘢𝘬𝘦 𝘰𝘯 𝘵𝘩𝘦 𝘩𝘢𝘭𝘧 𝘮𝘢𝘳𝘢𝘵𝘩𝘰𝘯 𝘥𝘪𝘴𝘵𝘢𝘯𝘤𝘦.
𝘛𝘰 𝘴𝘢𝘺 𝘐 𝘦𝘯𝘫𝘰𝘺𝘦𝘥 𝘵𝘩𝘦 𝘔𝘢𝘴𝘩 𝘋𝘪𝘳𝘦𝘤𝘵 𝘉𝘦𝘭𝘧𝘢𝘴𝘵 𝘊𝘪𝘵𝘺 𝘏𝘢𝘭𝘧 𝘔𝘢𝘳𝘢𝘵𝘩𝘰𝘯 𝘸𝘰𝘶𝘭𝘥 𝘣𝘦 𝘢 𝘤𝘰𝘮𝘱𝘭𝘦𝘵𝘦 𝘶𝘯𝘥𝘦𝘳𝘴𝘵𝘢𝘵𝘦𝘮𝘦𝘯𝘵… 𝘐𝘵 𝘵𝘳𝘶𝘭𝘺 𝘸𝘢𝘴 𝘢𝘯 𝘪𝘯𝘤𝘳𝘦𝘥𝘪𝘣𝘭𝘦 𝘦𝘹𝘱𝘦𝘳𝘪𝘦𝘯𝘤𝘦. 𝘊𝘳𝘰𝘴𝘴𝘪𝘯𝘨 𝘵𝘩𝘦 𝘧𝘪𝘯𝘪𝘴𝘩 𝘭𝘪𝘯𝘦 𝘸𝘢𝘴 𝘢 𝘴𝘶𝘳𝘳𝘦𝘢𝘭 𝘦𝘹𝘱𝘦𝘳𝘪𝘦𝘯𝘤𝘦 𝘢𝘯𝘥 𝘵𝘩𝘦 𝘱𝘰𝘥𝘪𝘶𝘮 𝘧𝘪𝘯𝘪𝘴𝘩 𝘸𝘢𝘴 𝘫𝘶𝘴𝘵 𝘵𝘩𝘦 𝘣𝘦𝘴𝘵 𝘴𝘶𝘳𝘱𝘳𝘪𝘴𝘦 𝘦𝘷𝘦𝘳. 𝘐 𝘸𝘰𝘶𝘭𝘥 𝘥𝘦𝘧𝘪𝘯𝘪𝘵𝘦𝘭𝘺 𝘦𝘯𝘤𝘰𝘶𝘳𝘢𝘨𝘦 𝘰𝘵𝘩𝘦𝘳𝘴 𝘵𝘰 𝘵𝘢𝘬𝘦 𝘱𝘢𝘳𝘵 𝘪𝘯 𝘵𝘩𝘦 𝘧𝘶𝘵𝘶𝘳𝘦… 𝘐𝘵 𝘸𝘢𝘴 𝘫𝘶𝘴𝘵 𝘵𝘩𝘦 𝘣𝘦𝘴𝘵 𝘦𝘹𝘱𝘦𝘳𝘪𝘦𝘯𝘤𝘦!"
Well done Jayne!