Catching up with Samantha Turkington
06 September 2022
Wishing Mash Direct's very own Samantha Turkington the very best of luck as she takes on the Mash Direct Belfast City Half Marathon in less than 2 weeks!!! Check out what Samantha had to say when we caught up with her this week. Remember, it's not too late to join Samantha – REGISTER NOW📲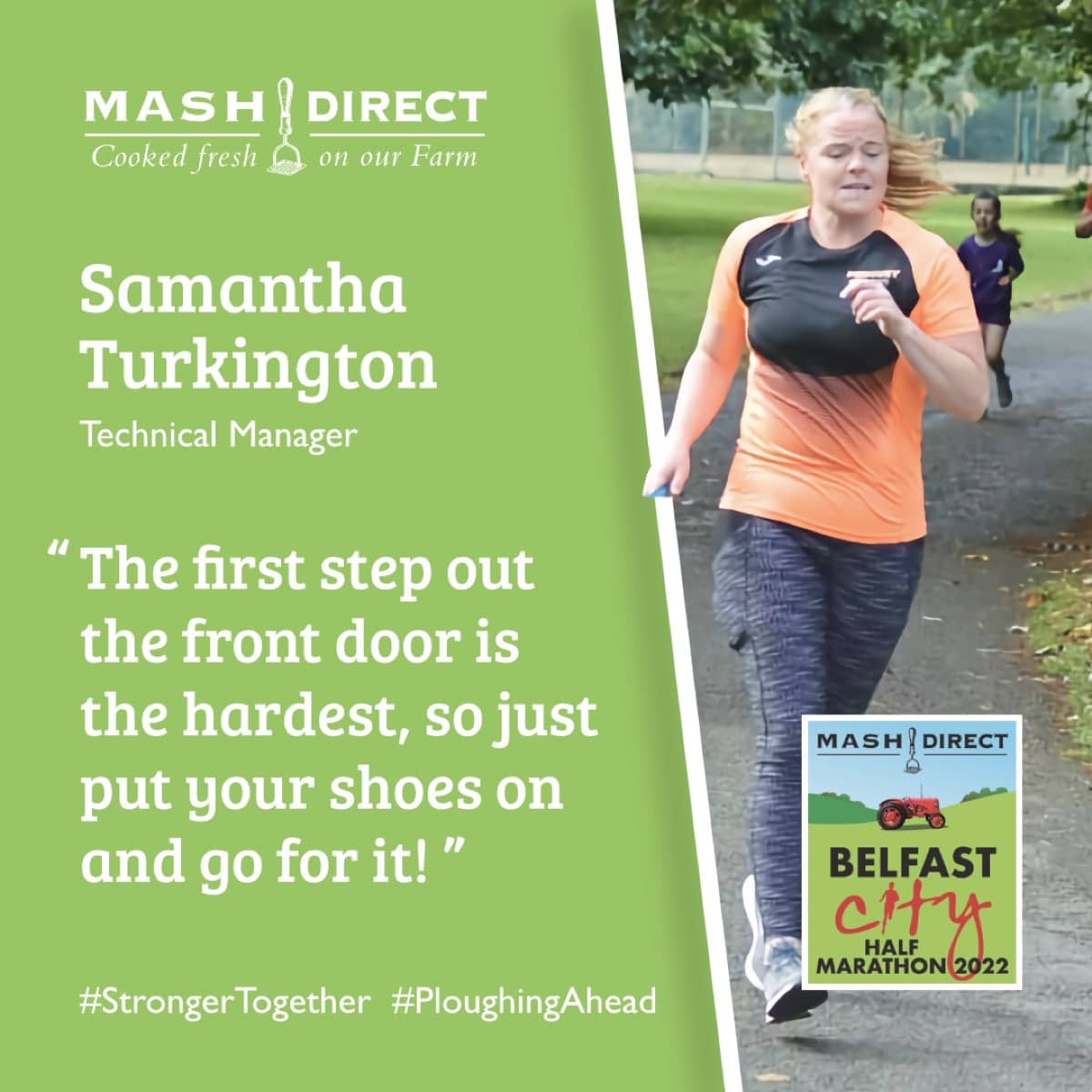 𝑾𝒉𝒐 𝒂𝒓𝒆 𝒚𝒐𝒖 𝒂𝒏𝒅 𝒘𝒉𝒂𝒕 𝒊𝒔 𝒚𝒐𝒖𝒓 𝒓𝒐𝒍𝒆 𝒂𝒕 𝑴𝒂𝒔𝒉 𝑫𝒊𝒓𝒆𝒄𝒕?
I am Samantha Turkington, and I am the Technical Manager at Mash Direct.
𝑾𝒉𝒚 𝒅𝒊𝒅 𝒚𝒐𝒖 𝒅𝒆𝒄𝒊𝒅𝒆 𝒕𝒐 𝒓𝒖𝒏 𝒕𝒉𝒆 𝑩𝒆𝒍𝒇𝒂𝒔𝒕 𝑪𝒊𝒕𝒚 𝑯𝒂𝒍𝒇 𝑴𝒂𝒓𝒂𝒕𝒉𝒐𝒏 𝟐𝟎𝟐𝟐?
I enjoy running and have taken part in a couple of Half Marathons recently. I do conditioning training 5 days a week. I am very excited to be running the new Mash Direct Belfast City Half Marathon route, it looks like a great course.
𝑾𝒉𝒂𝒕 𝒊𝒔 𝒚𝒐𝒖𝒓 𝒕𝒐𝒑 𝒕𝒊𝒑 𝒇𝒐𝒓 𝒔𝒐𝒎𝒆𝒐𝒏𝒆 𝒘𝒉𝒐 𝒊𝒔 𝒊𝒏𝒕𝒆𝒓𝒆𝒔𝒕𝒆𝒅 𝒊𝒏 𝒔𝒕𝒂𝒓𝒕𝒊𝒏𝒈 𝒕𝒐 𝒓𝒖𝒏/𝒇𝒐𝒓 𝒕𝒓𝒂𝒊𝒏𝒊𝒏𝒈?
The first step out the front door is the hardest, so just put your shoes on and go for it and keep on ploughing ahead.
Good luck, Samantha! We'll be cheering you across the finish line on Sunday 18th September! 👏👏👏👏
#sMASHed #PloughingAhead #StrongerTogether #BelfastCityHalfMarathon