Lauren's Story #YouRunWeFly
15 November 2022
Once told she would never walk again, Crumlin woman is encouraging runners and walkers to register for Mash Direct Belfast City Marathon, in support of Air Ambulance NI.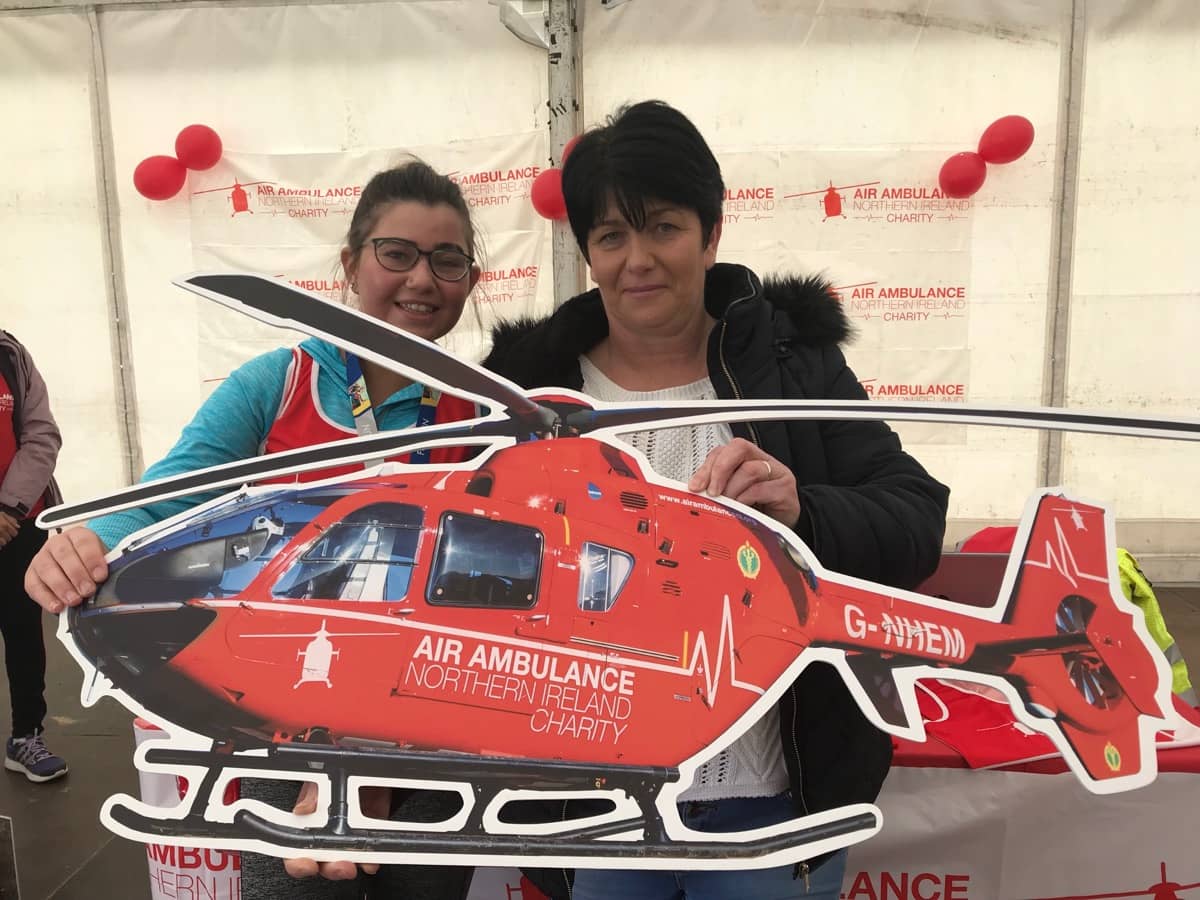 In 2019, Lauren McGivern participated in Belfast City Marathon Team Relay with her siblings in aid of Air Ambulance Northern Ireland, the charity for the service she credits for saving her life. Lauren, now 25, is encouraging everyone to get their trainers on and register for the Mash Direct Belfast City Marathon next April, to raise money for Air Ambulance NI.
On 25th March 2018, Lauren got out of bed in the early morning to leave her boyfriend, to work. She was driving around the familiar Nutt's Corner in Crumlin when her car slid on a patch of black ice, sending them both into a wall. In that second, everything changed. It was only 6.30am. The major road traffic collision tragically resulted in her boyfriend's death, a life lost way too soon.
Lauren suffered extensive injuries as a result of the impact. Her injuries were so severe that the Helicopter Emergency Medical Service (HEMS) team were called for and they carried out a pre-hospital anaesthetic at scene, commonly known as an induced coma. Other critical care interventions were carried out before Lauren was transported to the Royal Victoria Hospital in Belfast for on-going treatment and care. Lauren had suffered multiple injuries including a bleed to her brain. It was five days before she regained consciousness. Her physical injuries were so severe she was told by doctors that she would never walk again. But Lauren is a fighter and she has made a remarkable recovery. Less than 18months after her incident, Lauren and her siblings participated in their first ever marathon team relay.
The charity Air Ambulance NI works in partnership with the Northern Ireland Ambulance Service (NIAS), to provide the HEMS for the region and responds to seriously ill or injured patients 12 hours a day, 7 days per week. The service has been tasked on more than 3,000 occasions in 5 years.
Since the accident Lauren has continued to make a remarkable recovery; she has recently passed her driving test giving her more independence and has completed an eyelash course.
Lauren said: "I knew of the air ambulance before the accident, but I never thought they would be helping me one day. I know that if they weren't there, I wouldn't be here today. I hope that by sharing my experience others appreciate this valuable service and get the trainers on for marathon day. It will help other people receive the care they need like I did."
The Mash Direct Belfast City Marathon takes place on 30th April 2023 and to avail of the early bird rate, sign up before 30th November The Mash Direct Belfast City Marathon | Belfast City Marathon As well as the marathon race there is also a team relay with distances from 4.2miles and an 8-mile walk event.
Grace Williams, Area Fundraising Manager added, "Air Ambulance NI is the sole charity for Mash Direct Belfast City Marathon and Mash Direct Belfast City Half Marathon from 2023-2025. It is a wonderful opportunity for people to participate and raise funds to help the next patient. When you run, we fly! All those raising funds will receive our digital fundraising pack, t-shirt or running vest, be invited to the airbase to see the HEMS service and enjoy the camaraderie from other participants in our marathon Facebook group. Whether you choose the 8-Mile Walk, Team Relay, Half or full Marathon, you'll be playing your part to save lives, brains and limbs when you fundraise for Air Ambulance."
To learn more about the charity, go to Air Ambulance Northern Ireland's Facebook page, visit www.airambulanceni.org or call 028 9262 2677.