Volunteer on Marathon Sunday 2020
07 March 2020
Have you registered to volunteer with us yet?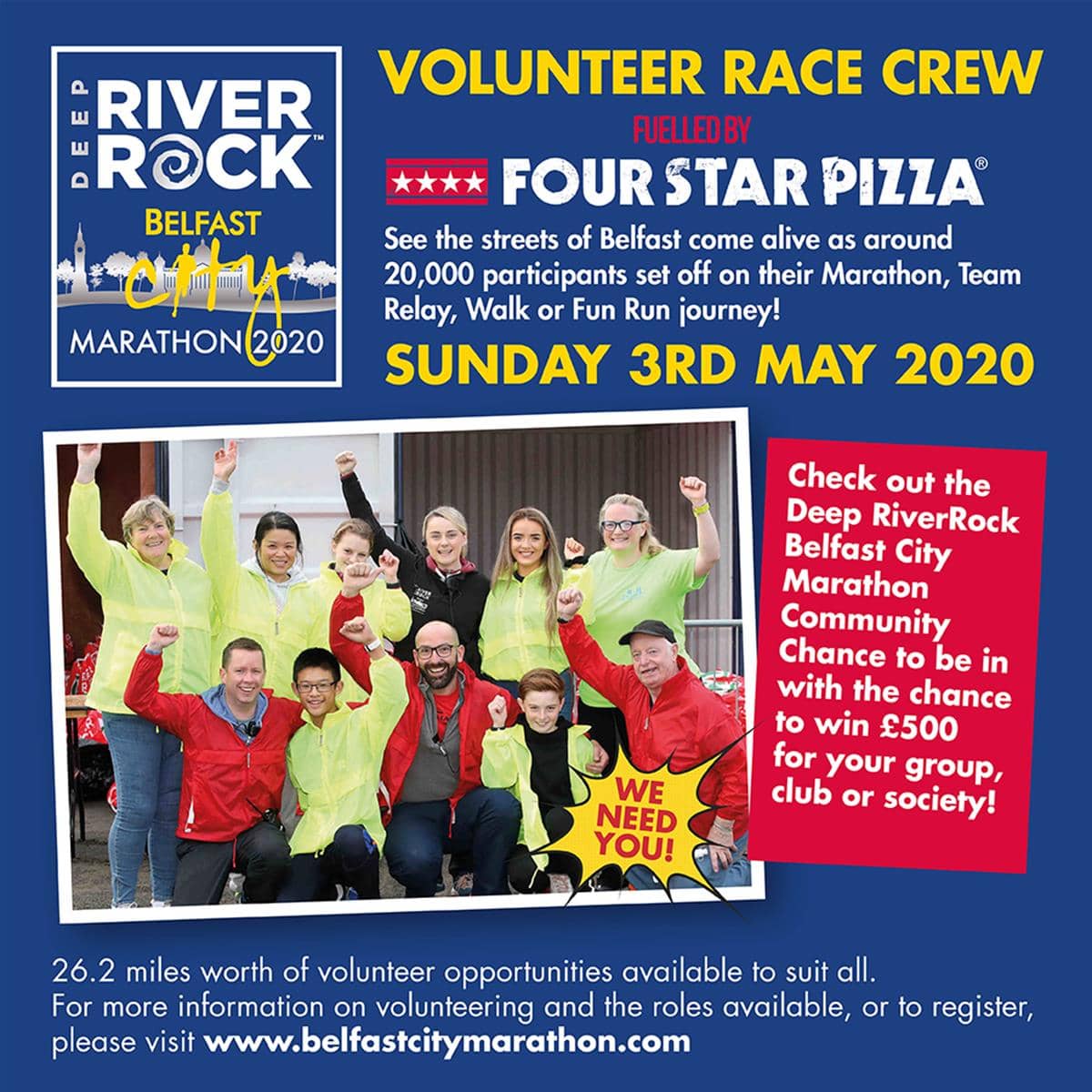 Around 600 volunteers come together every May to support a range of event roles to ensure the Marathon, Team Relay, 8 Mile Walk and Fun Run events run smoothly, with all participants enjoying a safe, family friendly day out.
In 2020 the event has a new volunteer initiative and incentive scheme, including Four Star Pizza as the new sponsor of the Volunteer Race Crew!
Also for the first time the event has launched the Deep RiverRock Belfast City Marathon Community Chance, whereby groups, clubs and societies that provide 6+ volunteers will be in with a chance to win £500! The incentive has been formed to enable groups, clubs and societies to continue bringing communities together to do the things they love without the financial burden as well as raising awareness of their group.
That's not all...also new for 2020, anyone interested in joining the Deep RiverRock Belfast City Marathon Volunteer Race Crew can register online via the event registration system Eventmaster.
Each volunteer in the group will also receive a Decathlon Belfast jacket, and snack pack for race day and to thank them for all their hard work they will receive a FREE Four Star Pizza voucher!
So, whether you are a sports club, reading group, performing arts society, or PTA, the Deep RiverRock Belfast City Marathon NEEDS YOU!
For more information on volunteering and the roles available, or to register your group, club or society, please click HERE.
**Charities are not eligible to participate as the Deep RiverRock Belfast City Marathon have an official charity partner, Cancer Focus NI.
The Deep RiverRock Belfast City Marathon is sponsored by Athletics Northern Ireland, Daily Mirror, Belfast City Council, Better, Cool FM (Downtown Radio and Downtown Country), Translink, Spar, Belfast Live, Framar Health, Decathlon Belfast, Tayto and Four Star Pizza. This year's official charity is Cancer Focus Northern Ireland.