National Pizza Day - Volunteer Competition
09 February 2022
🍕 It's National Pizza Day!
In celebration of Student Volunteering Week with Four Star Pizza we're giving away a voucher for you to enjoy a LARGE 14" pizza, at one of your local Four Star Pizza stores*.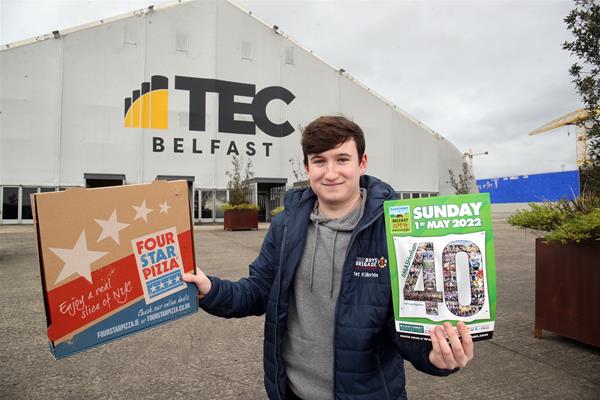 ❗️We need your help for our special 40th year! Make sure you register your interest to volunteer** with us at www.belfastcitymarathon.com/volunteering
🎉For a chance to WIN a Four Star Pizza voucher, head over to our Facebook, Instagram and Twitter pages. Simply COMMENT below the competition post with #NationalPizzaDay and tag a friend you'd like to volunteer with!
We'll select one winner at random from all the entries. You can enter on Facebook, Instagram and Twitter. Final entry will be at midnight on Sunday 13th February.
🍕Visit www.fourstarpizza.co.uk to check out their tasty menu!
*Terms and Conditions apply:
One winner/one prize
Prize is a Four Star Pizza voucher for a large 14" pizza
Voucher is valid in NI stores only (as per printed voucher expiry date).
**Volunteer opportunities are available at the Mash Direct Belfast City Marathon Expo and Pack Collection at the Titanic Exhibition Centre, Belfast (28th April - set up day, 29th-30th April) and on race day Sunday 1st May.
#BelfastCityMarathon #Volunteer #VolunteerRaceCrew #FuelledByFourStarPizza #NationalPizzaDay #StudentVolunteeringWeek #HealthMonthBCM