Student Volunteering Week with Sponsor Four Star Pizza
07 February 2022
The organisers of the Mash Direct Belfast City Marathon have joined forces with sponsor Four Star Pizza to help celebrate and raise awareness of Student Volunteering Week.
Taking place from 7th – 13th February, Student Volunteering Week* celebrates the importance of students volunteering such as helping to improve student wellbeing; developing student employability; and it helps contribute positively to the local (and wider) community.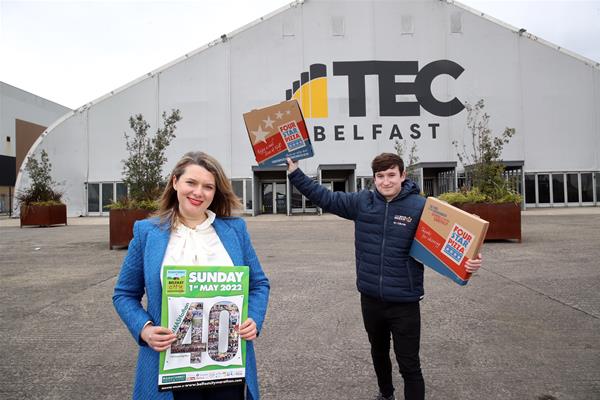 The Mash Direct Belfast City Marathon celebrates it's 40th year on Sunday 1st May 2022 and is focusing on several positive additions to the event such as a brand-new Expo and Pack Collection at the Titanic Exhibition Centre, on Friday 29th and Saturday 30th April.
The event needs over 500 volunteers to help ensure an efficient, successful, and memorable Marathon weekend and with the support of Official Food Sponsor, Four Star Pizza, all volunteers can expect a complimentary pizza voucher along with an event t-shirt and medal/certificate.
Four Star Pizza is a wholly Irish-owned Pizza chain, established in 1988, and now operates 57 stores across the island of Ireland, including 14 in Northern Ireland.
Four Star Pizza Communications Executive Therese Anglim says:
"We are delighted to sponsor the Volunteer Race Crew, including volunteers for this year's new Expo and Pack Collection. We appreciate how important volunteers are to help support the delivery of a huge event such as the Mash Direct Belfast City Marathon. We're looking forward to rewarding the volunteers with a carb and energy-boosting Four Star Pizza for all their efforts. This Student Volunteering Week, we would urge as many students as possible, across the community, to come forward and get involved in the event's special 40th year."
Ross Wylie (19 years), a Geography student at Queens University Belfast and Officer at 1st Kilbride Boy's Brigade said:
"I volunteer as an officer in the Boy's Brigade, as well as other roles within my church and local sports clubs. My main reason for volunteering is to give back to organisations who have helped me so much over the years. I get great satisfaction out of seeing others learn the same skills and enjoy the same activities I experienced growing up. Volunteering is very rewarding but it's also great for learning new transferable skills, which can be added to your CV for future job applications!"
Perhaps you are a student looking for work experience to add to your CV? Or seeking volunteer accreditation including a goal towards The Duke of Edinburgh's Award programme?
The Mash Direct Belfast City Marathon is a not-for-profit organisation with volunteer opportunities available for their Expo and Pack Collection at the Titanic Exhibition Centre, Belfast; on Thursday 28th April (set up day), Friday 29th and Saturday 30th April; and on race day Sunday 1st May.
For more details or to register your interest, visit: www.belfastcitymarathon.com/volunteering
The Mash Direct Belfast City Marathon is sponsored by Athletics Northern Ireland, Daily Mirror, Belfast City Council, Better, Cool FM (Downtown Radio and Downtown Country), Translink, Belfast Live, Tayto, Four Star Pizza and CompareNI.com. This year's official charity is Cancer Focus Northern Ireland.
*Article source: https://www.studentvolunteeringnetwork.com/studentvolunteeringweek