Gareth conquers World Marathon Majors for Cancer Focus NI
28 February 2020
Gareth Armstrong has conquered five of the six most prestigious marathons in the world raising over £12,000 for Cancer Focus Northern Ireland – the official Deep RiverRock Belfast marathon charity.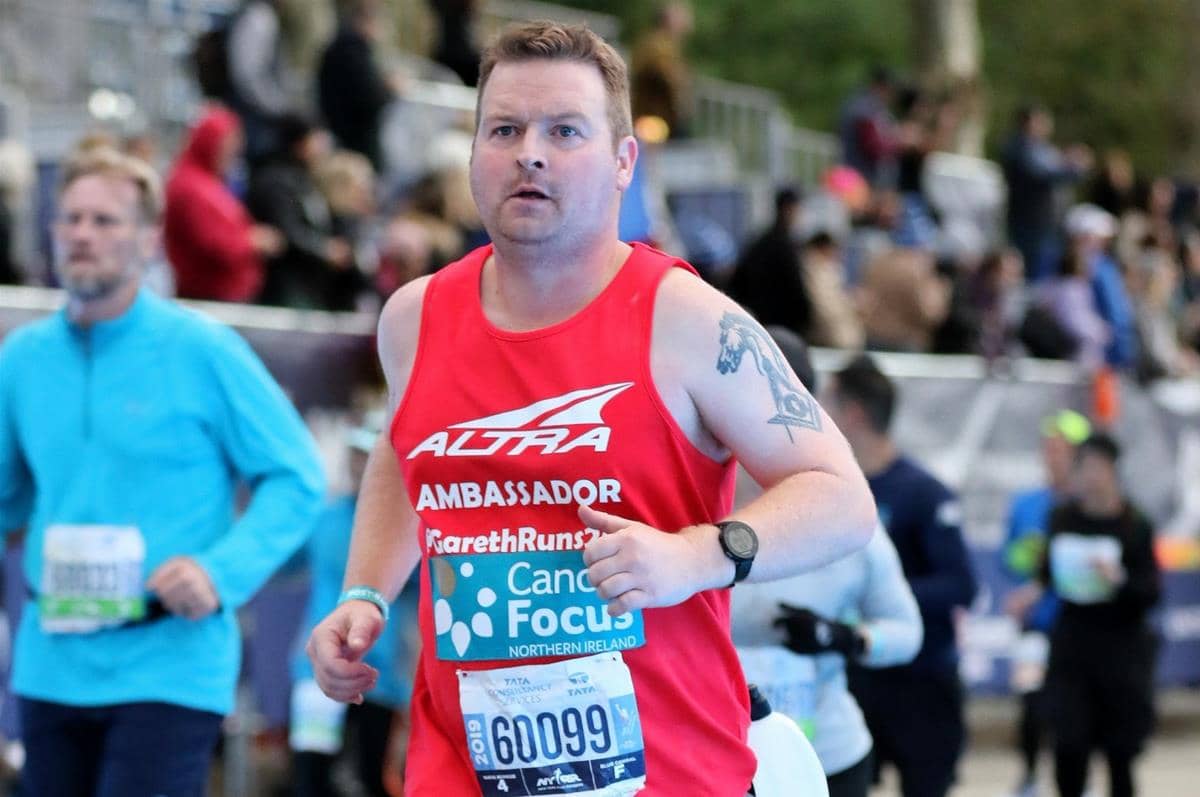 Gareth will run his final Abbott World Marathon Major in Boston on April 20 followed by the Deep RiverRock Belfast City Marathon on May 3 for the fifth consecutive time. Since 2018, he has completed the course in Tokyo, Berlin, Chicago, New York and London.
His mantra is "If you put the work in, you can do it!"
Gareth (36), who works in outdoor activities mostly with young people, said: "I've always been sporty, especially horse riding and rugby until about 2014.
"Then I had meningitis, which knocked me for six and nearly finished me. That was a life-changing moment for me. The after-affects such as fatigue can be worse than the illness itself and that's something that will probably always be with me. It does give me a lot of determination though.
"That experience sparked me into fundraising for charity, first for meningitis and a few other charities," the Ballynahinch man explained.
Then, two years ago, Gareth changed direction and decided he was going to run the six WMMs for Cancer Focus NI – a mammoth task.
"My grandmother and grandfather both passed away from cancer and also one of my school friends. That was a big shake up – you don't expect someone you were at school with to die from cancer so young.
"I seem to know so many people now who have been affected, particularly women who've had breast cancer, including work colleagues and partners of friends. I went to four funerals last year, all my friends' parents just in their 50s, people I knew really well. It's just a devastating and such a common disease.
"Some of these people had used Cancer Focus NI care services. I very much wanted to raise funds for a local charity and I wanted to see how the money was being spent – it makes you feel like to you are actually doing something to help.
"It becomes very personal when you see someone close to home having to deal with cancer and see the effect it has not just on them but their whole family. The best way I thought I could help was by doing six marathon majors for Cancer Focus NI," he said.
"Boston is the last one. The time has just flown in. I did it because it was a challenge and once I get going I don't let it go until I see the finish line.
"After the Deep RiverRock Belfast City Marathon I'm going to take a rest. But I'm on the look-out for the next challenge for 2021 for Cancer Focus NI.
"There is a North Pole marathon that is definitely on the cards, though I would have to get good corporate sponsorship for that as it's expensive to buy the equipment you need and just to get there. I'd love to get a refrigeration company on board so I can run inside their freezers to build up my stamina at sub-zero temperatures."
He added: "I'd like to thank the people of Ballynahinch in particular for being such magnificent supporters, I couldn't do any of this without them."
Anyone who is concerned about cancer can call the free Cancer Focus NI support Nurse Line on 0800 783 3339.
If you would like to support Gareth, check out his JustGiving Page. Donate now